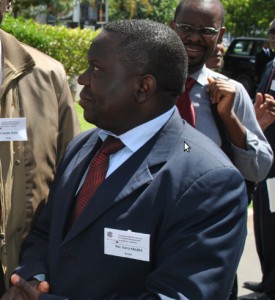 Government has confirmed the abduction of a Zambian citizen identified as Felix Ngoma working for the International Organisation for Migration by the Janjaweed rebel group in Sudanese Darfur region.
Foreign Affairs Minister Harry Kalaba however disclosed that a hostage management team has been set up to negotiate with the gunmen who are demanding a ransom of 1 million dollars.
He told a media briefing that government is constantly in contact with the IOM Office in Lusaka adding that Mr. Ngoma who was abducted on 6th July 2014 is kept well and his release is likely.
"Mr Ngoma is said to have been on his way from IOM offices to his residence located 5 KM from IOM offices when he was intercepted. The gunmen contacted IOM office to inform them that they had abducted Mr Ngoma and demanded a ransom to be paid.
The gunmen are demanding US$ 1 million before releasing Mr Ngoma," Mr Kalaba said.
He added, "IOM has quietly been negotiating with the gunmen and have kept government and Mr Ngoma's family well informed and have assured all concerned that the organisation was doing everything possible to secure his release."
Mr Kalaba revealed that the Zambian Government has authorized Ambassador Sinjela of Geneva to be liaison person for Zambia and information as of today is that Mr Ngoma is kept well and is in good health and that his release is imminent.
And Mr. Kalaba has implored Zambians working in trouble spots to exercise caution.
Meanwhile, Mr Kalaba revealed that Government has re-called a Zambian Diplomat implicated in a sexual assault case in the United Kingdom.
He said the Ministry took remedial measures and recalled the diplomat after receiving the report while the matter involving the person who was implicated in drunken driving is being dealt with.
The Foreign and Commonwealth Office (FCO) recently revealed a list of the most serious alleged offences in 2013, including representatives from Pakistan accused of rape and child abduction, and a Zambian diplomat implicated in a sexual assault case.
And Mr. Kalaba also revealed that Zambian High Commissioner to Nigeria Seleman Banda has been recalled as a result of certain things that were happening that were not in tandem with diplomatic etiquette.