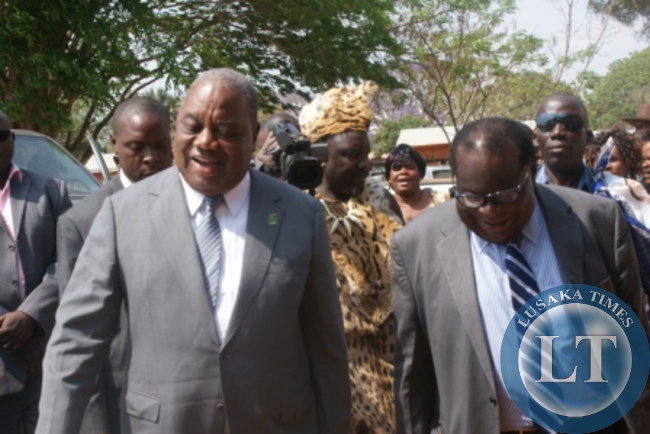 THE Lusaka High Court has ruled in favour of the MMD in the case where embattled party President Nevers Mumba challenged his suspension by the NEC.
Nevers Mumba who was already at the Mulungushi International Conference Centre to attend the Electoral Commission of Zambia ECZ organized meeting for all the aspiring presidential candidates was served with the court ruling and left the centre.
In a ruling delivered this morning, High Court Judge Chalwe Mchenga ruled that Dr Mumba should have set out in definite terms what Mr Lungu should be precluded from doing during the period of the injunction.
This is a matter in which Dr Mumba had sued Mr Lungu in his capacity as National Secretary and asked the court to restrain him from interfering with the running of the office and functions of the party President.
Judge Mchenga said in the absence of definite parameters, a court cannot grant an injunction in very general terms as Mr Lungu cannot be held responsible for falling to comply with a prohibition that has not been specifically spelt out.
He added that Dr Mumba should have indicated whether the injunction he was seeking relates to the disciplinary proceedings against him, the party's presidential campaign or otherwise.
Judge Mchenga has since discharged with costs the interim injunction granted to Dr Mumba on November 25 2014.
The Court decision paves way for former president Rupiah Banda to stand on MMD ticket in the coming presidential election slated for 20th January 2015.
Dr Mumba was suspended from his party following alleged indiscipline after he refused to pave way for former MMD president Rupiah Banda to stand in the forth coming Presidential election.
MMD secretary general Muhabi Lungu who opposed to granting of an inujcntion to Dr Mumba said that Dr Mumba's suspension was done in good faith and in accordance with the party constitution.
Mr Lungu said Dr Mumba had gone against the Party Constitution by declaring himself a Presidential candidate in the January 20, 2014 election in total defiance of the directive by the National Executive Committee (NEC).
Efforts to reach Dr Mumba proved futile by broadcast time as he was in a meeting.
[Read 539 times, 5 reads today]