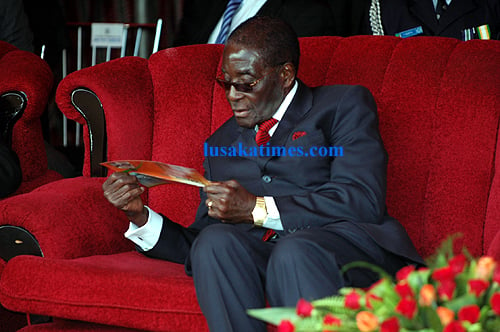 The United Nations Organisation is anathema for Africans
Dear Editor,
I am an 87-year old Buddhist.
Seven years ago I was officially exempted from the quotidian routine of the Monastery and I was installed as Clergy-Scientist and President of the North American Buddhist Group.Before "retirement" I served as Professor of Bio-sciences in the University of Saskatoon.And nine years ago the Governor General of Canada named me "Citizen of the Century" and awarded a Medal to commemorate the event.
After a lifetime of saffron-coloured burlap robes, hand-crafted open leather sandals, shaven head, and Begging Bowl I transformed into a "Office Worker" replete with Saville Row garments, polished footwear, and collar and tie.I also allowed my hair to grow.
I spent much of my time in experimentation and in investigation and I reviewed modern History.I was massively stultified by the realization that the United Nations Organisation has maintained a Willful Blindness which allowed it to preside over the affairs of the entire African Continent.It did so for the past seventy years and it has left its African Member Nations in abject poverty and in devastation.
It dawned upon me that the United Nations Organisation has been anathema to every African Nation from Algeria to Zambia.
For seventy years the multi-national cartels were allowed to remove enormous quantities of Petroleum, Natural Gas, Gold, Copper, Diamonds and Chrome.Environmental ruination went unchecked.
And the cartels had installed native puppets to positions of leadership so that they could serve as conduits for cash that ended up in Swiss bank accounts.The natives of Africa did not benefit from the rampage.Now less than two percent of the natives have access to sewage, potable water, adequate food, healthcare, housing, roadways, and electricity.
Apart from the Natural Resources, vast amounts of Cash were exported from the various African Nations to Tax Shelters in Europe.
Momar Ghaddafi is known to have stashed away ($ 450 Billion USD), Sanni Abacha ($250 Billion USD), Hoshni Mubarak ($650 Billion USD).etc.,etc..Milton Obote is known to have transferred 200 Million USD to his private Bank Account in New York City just ten days before he was violently deposed.
The curse of the UNO is reflected in its Pious Fury that runs in tandem with its supply of modern military equipment that has kept Tribal Warfare smoldering for seven decades.
Robert Mugabe is the greatest Patriot and the most valorous Hero that ever existed.
No other native Leader has ever re-claimed land that was usurped by colonisers.
Robert Mugabe vanquished the White Farmers and the Ian Smith regime notwithstanding their Modern Army, high-tech Air Force, and control of the News Media.Robert Mugabe did no wrong but the UNO resorted to malicious confabulation to justify the Trade Sanctions which it orchestrated and maintained for 34 years.
The indisputable Truth is that there is no National Leader with such erudition, such a varied formal education, such dignity, and such fortitude as does Robert Mugabe.
The UNO was mandated to secure Food Production but its economic lynching caused crop failures throughout the Bread Basket of Africa.
It was a travesty when the UNO championed the White Farmers of Rhodesia. It had no mandate to champion predatory actions by powerful nations.I plan to shut down the UNO until it compensates the Zimbabweans $500 Billion USD for lost revenue.
Yours sincerely,
Dharma Appavoo,
President,
The Buddhist Group of North America.