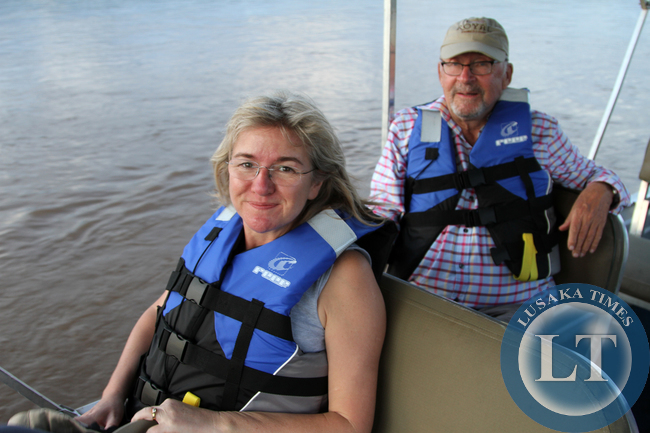 ACTING President Dr Guy Scott says investing in tourism should not be left to a few foreigners while Zambians just wander around.
Speaking to journalists at the Nyamangwe island in the lower Zambezi national park, Acting President Scott urged Zambians to take keen interest in toursim saying its not something that should be left to foreigners alone.
"If you check around this place, most of these lodges are owned by foreigners. I have not seen much of Zambian investors around this place but just foreigners and that includes even visitors. Let us not leave foreigners to take charge while we wander around. This is our land as Zambians, it does not belong to foreigners. It is part of our heritage. So this long tradition of indigenous Zambians who own this land not visiting places like this must come to an end," acting President Scott said.
He said Zambia's tourism potential was far in excess than countries like Zimbabwe, South Africa and Botswana.
"Even you as journalists, you have not seen much of this country and when you see it, you will really appreciate. Zambia's potential for tourism is far in excess of Zimbabwe, Botswana and even South Africa but we are just busy mining copper. We just have to keep our house in order. We need to get ourselves organised. We have better national parks so let us develop what we have," he said.
Acting President Scott wondered why countries like South Africa should be receiving more tourists when parks like the Kruger National park were not as big as what Zambia had.
"We dont talk as Zambians to explain to these tourists what we have kaya timvela manyazi. Of course we need to get some things in place like new airlines coming to Zambia and a lot more things. We have the capacity," said acting President Scott.
And Dr Charlotte Scott who accompanied the acting President, urged Zambians to take time and visit places like the lower Zambezi National park.
"There is so much we can do in terms of tourism with all this space around. So people should take time to come and see national parks like lower Zambezi," said Charlotte.
The Lower Zambezi has been a great centre controversy following plans by the Australian Zambezi Resources and its local subsidiary, Mwembeshi Resources,plans to start mining in the area.
A recent report, investigating the proposed Kangaluwi Copper Mine project in the Lower Zambezi National Park, said that the information provided by the company to support their mining project was in fact "fatally flawed."
Independent mining experts who were consulted in the process of the investigation, have posed harsh questions as to whether the vague and contradictory information presented by the company, was "intentionally misleading, or demonstrated gross incompetence."
"The documentation Presented by Zambezi Resources suggests a complete disregard for the Zambian legislative process," says the report, "and questions revolve around the true purpose and scope of the project, given that copper mining appears economically unviable at the site."
The full recent report on the Lower Zambezi National Park can be downloaded from the link below
http://voices.nationalgeographic.com/files/2014/11/Evaluation-Report_-Mining-Lower-Zambezi_LZNP_Nov2014.pdf