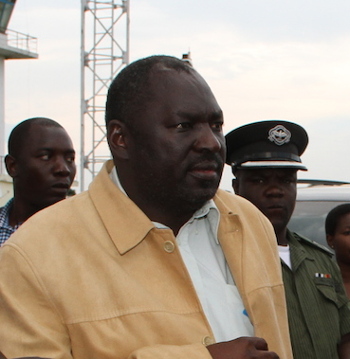 PF Secretary General Davis Chama says party president Edgar Lungu is committed to enacting the country's constitution whether he signs the constitution social contract or not.
The Grand Coalition on the Demand for the People Driven Constitution has asked all eleven candidates participating in the January 20th presidential election to sign its social contract which commits whoever signs it to ensuring that the country's new constitution is enacted before 2016.
But Mr. Chama has told Qfm News his party is of the view that signing the said social contract is a non issue as what is important is the willingness and availability of funds to enact the constitution.
Mr. Chama says this does not however mean Mr. Lungu is afraid to sign the social contract.
He says Mr. Lungu has already made it public that he is willing and he is committed to ensuring that the country has a new supreme law before the 2016 general elections.
The PF Secretary General says while people take note of this promise Mr. Lungu has made, they should also remember that Mr. Lungu's committed towards enacting the new constitution was earlier demonstrated by his releasing the final draft constitution within a space of two months after being appointed Justice Minister.
He says it is thus clear that the ruling party is committed to this course of enacting Zambia's new constitution.
Mr. Chama states that it is further important to keep it in mind that when one is elected republican President it means that that individual has also signed a contract with the people and therefore he or she is mandate to do the wishes of the people.
He says it is for this reason that his party thinks that is not an issue whether Mr. Lungu signs the social contract with the Grand Coalition or not as he is already willing to deliver the new constitution.
The ruling PF Chief Executive Officer notes that his party is also mindful that it has limited time to enact the constitution before the 2016 general election.
He says the ruling party's hope is however that it will manage to do so within remaining space of time.
[Read 20 times, 1 reads today]