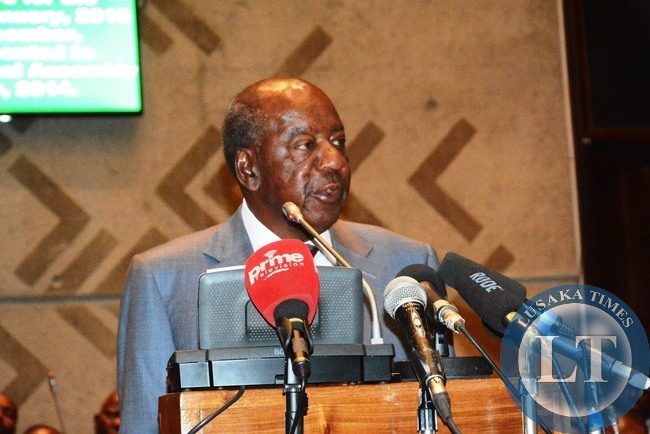 Minister of Finance Alexander Chikwanda has commissioned a K2.6 million four by two semi-detached houses housing project belonging to Zambia Revenue Authority (ZRA) officers in Kazungula.
Speaking this morning in Kazungula when he officially commissioned the housing project, Mr. Chikwanda said ZRA officers deserve good accommodation if they are to be motivated especially that the hard working staff are mandated with the responsibility of collecting revenue on behalf of the government.
Mr. Chikwanda mentioned that by motivating ZRA officers, more revenue would be collected translating into more cash in the state treasury which will in turn contribute to the development of the country's economy.
He charged that it is the same money that ZRA collects from taxes that goes towards construction of roads, clinics and many other social amenities which the country enjoys.
The Finance Minister applauded ZRA for coming up with initiatives aimed at improving service delivery adding that government will remain committed in making sure that maximum support is rendered to the authority.
Mr. Chikwanda said the financial support to the authority will be in form of infrastructure and technological advances.
He further charged that government is also committed to ensuring that Kazungula border post facility becomes strategic for regional trade by prioritizing the construction of the Bridge across the Zambezi River and the establishment of one stop border facility.
He urged the ZRA staff to give in their best and ensure that illegal goods are blocked from entering the country.
Earlier, ZRA Commissioner General Berlin Msiska said Kazungula border post is a key entry point bordering three neighbouring countries namely Namibia, Botswana and Zimbabwe.
Mr. Msiska said a motivated work force will do its best to collect the much needed revenue for the country.
He disclosed that last year, ZRA collected annual revenue of K27, 631 million surpassing the targeted amount of K26, 675 million.
Mr. Msiska commended government for its support rendered to the authority for the past three years.