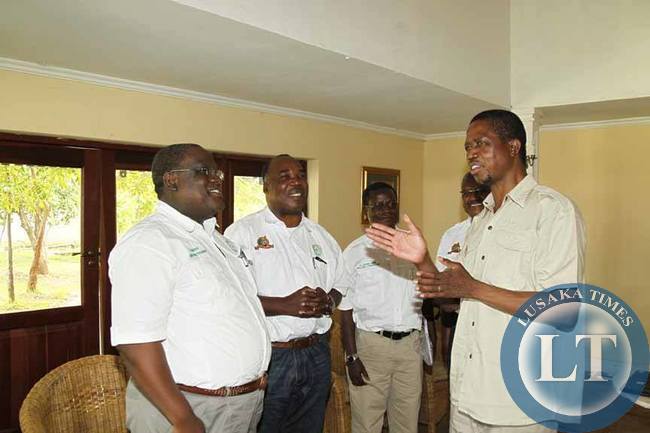 President Edgar Lungu has delegated his authority to Mrs. Inonge Wina, Vice-President of the Republic of Zambia to discharge functions of the office of President from 6th February 2015 till his return from Zimbabwe. The delegation of power is pursuant to Article 39 of the Constitution of Zambia.
The President leaves for Harare this morning for a day's trip to pay traditional courtesy call on the chairman of SADC, President Robert Mugabe. He will return to proceed with his retreat to conclude the formation of government.
This is contained in a statement issued to media by the President's Special Assistant for Press and Public Relations Amos Chanda.
And President Lungu has made four new appointments to the Foreign Service and challenged the appointees to justify their postings by delivering efficiently.
The appointments, which will take effect upon the receiving countries' acceptance of the nominees' credentials, are as follows:
Mr. Humphrey Chibanda: Ambassador-Designate to France (Chief of State Protocol, Ministry of Foreign Affairs)
Mr. Emmanuel Mwamba: Ambassador-Designate to Malaysia (former Information Permanent Secretary)
Dr. Solomon Jere: High Commissioner-Designate to Nigeria (former Deputy Inspector-General of Police)
Mrs. Brenda Muntemba-Sichilemba: High Commissioner-Designate to Kenya (former Commissioner of Police)
The President has emphasised that he was in a hurry to reposition Zambia in international affairs and he therefore expects robust performance from all Zambian envoys serving abroad.
"I expect very high performance from all those serving in the Foreign Service and will not tolerate misconduct and laziness from anyone. We are in hurry to deliver."
[Read 17 times, 1 reads today]