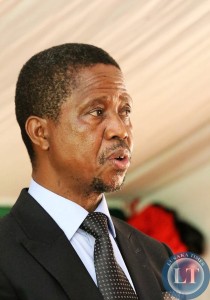 President Edgar Lungu has ordered police to immediately question opposition Hakainde Hichilema over his remarks that he controls the Zambian intelligence system.
During a news conference last week, Mr Hichilema claimed that he controls the state intelligence system in the country and has access to intelligence files before President Lungu.
President Lungu said the Police should investigate to ascertain whether Mr. Hichilema's claims are true or are just aimed at bringing confusion in the country through mere policking.
He has also directed Police to investigate and identify the officers leaking information to the UPND leader.
President Lungu issued the directive this morning at State House when he swore in Justice Ireen Mambilima as Chief Justice.
'I expect the police to move in and find out from him how he is doing so. Has unsurped the powers of the President. The past five days have worried me a lot and I want you to find out from him whether it is true he runs the OP in this country because as far as I know there is only one President and that President is me and through me we all have to be governed,' he said.
He said, 'the police must find out from HH how he is controlling the state intelligence system and if there are people leaking such information to him, we need to fish them out and charge them and if there is a criminal offence occasioned, the Director of Prosecutions will take it up.'
President Lungu also reiterated that he will not interfere in the operations of the Judiciary.
'As for me, I want to assure you that I will not interference with the judiciary, I will not interfere with the court general and I will not interfere with Parliament,' he said.
He said with the appointment of a new chief justice, Zambians expect speedy transformation in the delivery of justice to the public.
And Justice Mambilima pledged to expeditiously address the challenges affecting the speedy delivery of justice in country.
Justice Mambilima disclosed that she will be meeting stakeholders to discuss how this can be addressed.
'We hit the ground running and address the issues affecting the delivery of justice but it needs the input of all stakeholders including the bar, the public, the government and ourselves, we are going to start now and meet all the stakeholders,' Justice Mambilima said.
[Read 18 times, 1 reads today]