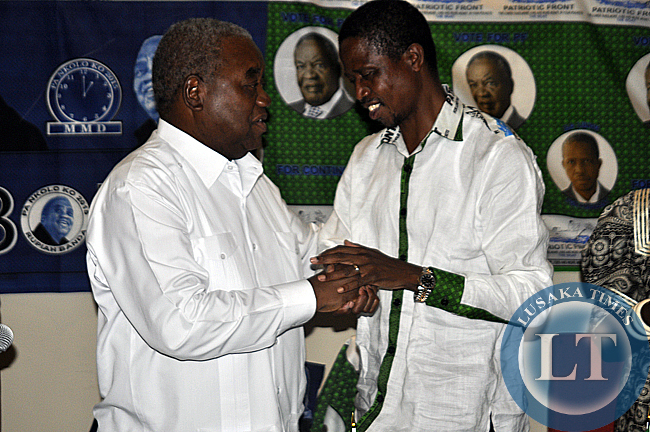 Vice -President Inonge Wina told parliament this morning that president Edgar Lungu is not hiding behind fourth republican president Rupiah Banda.
Ms Wina was responding to opposition members of parliament who wanted to find out why Mr Rupiah Banda was accompanying Mr Lungu to Namibia for the inauguration of President-elect Dr Hage Geingob.
Ms Wina said the trio of fourth republican president Rupiah Banda, first republican president Kenneth Kaunda and veteran politician Vernon Mwaanga were invited for the inauguration because of the contribution they rendered to the political emancipation of Southern Africa.
"Zambia paid dearly for the political freedom of Africa and people might wish to know that the new president of Namibia was once a political refuge in Zambia," she said.
Ms Wina added that some politicians are unsettled by the association of the Patriotic Front (PF) and Movement for Multiparty Democracy (MMD) hence accusing president Lungu of being controlled by Mr Banda.
Mr.Rupiah Banda was officially invited to attend the inauguration ceremony by Namibia's outgoing President, Hifikepunye Pohamba.In his invitation letter, Mr.Pohamba said that the
inauguration ceremony which will be held on 21 March, 2015, will also mark the 25th anniversary of that country's independence.
"I have the honour and pleasure to invite Your Excellency to grace the inauguration ceremony and the silver jubilee with your presence," wrote President Pohamba.
He stressed that President Banda's presence at Dr Geingob's inauguration ceremony will symbolise the excellent bilateral relations and strong bonds of solidarity and friendship that exist between Zambia and Namibia.
As Zambia's Ambassador to the United Nations in the 1970s, President Banda once served as President of the United Nations Council for Namibia, a body that was responsible for superintending the country's affairs before the attainment of political independence in 1990.