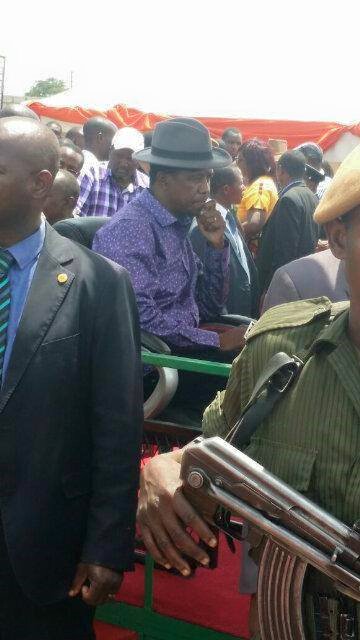 President Edgar Lungu this morning cut short his International Women's Day celebrations at Heroes Stadium in Lusaka after he fell ill.
President Lungu's Special Assistant for Press and Public Relations Amos Chanda informed the gathering that President Lungu had to seek emergency medical assistance.
Mr Chanda also confirmed to TV2 news in a telephone interview that earlier tests done on the President Edgar Lungu indicate traces of Malaria and high levels of fatigue.
Mr. Chanda said that the President has taken the Doctors advice to take a rest.
And President Lungu also confirmed that he is unwell and had to be attended to by doctors for possible malaria.
Mr. Lungu urged Zambians not to worry and has assured the nation that he will be well.
President Lungu later bid farewell to the dignitaries and left the Stadium.
Meanwhile, hundreds of people from all walks of life gathered at the Heroes Stadium in a march past to commemorate this year's International Women's Day under the theme "Gender my Agenda: Make it happen".
Women in Zambia have today joined the rest of the world in celebrating the International Women's day.
In Lusaka, women and men from government departments, the private sector and political parties among others taking part in the celebrations at the Heroes stadium.
Gender and child development Minister Professor, Nkandu Luo, flagged off the match pass from Emmasdale police station to the Heroes stadium.
The theme for the event is 'Gender is my Agenda, make it happen'.
Meanwhile, Health Deputy Minister Chitalu Chilufya says no woman in Nakonde District should die while giving birth.
Dr. Chilufya says Government is happy to have a new District Hospital in Nakonde to respond to challenges facing women and the general public.
He says Government will now increase the number of delivery beds expectant mothers to deliver in a safe environment.
Dr. Chilufya was speaking in Nakonde on Sunday when he officiated at this year's International Women's Day.
Dr. Chilufya says President Edgar Lungu has chosen action instead of being rhetoric by appointing Zambia's first female Vice President Inonge Wina.
He says programs are being encouraged to promote more enrolment of girls in schools to have educated women in future.
And Nakonde District International Women's Day Organising Committee Chairperson Mwaka Namukonde has urged police to curb gender based violence which is as high as 80 percent.
Ms. Namukonda has also urged Government to re-introduce night schools to promote adult education for mostly women as they shun day schooling.
And Minister of Information and Broadcasting Services, Chishimba Kambwili has assured women in the country that the PF government was ready to take the lead in promoting gender equality as outlined in the 2014 National Gender Policy.
Mr. Kambwili who is also Government spokes person said government has demonstrated this by ensuring that women should also hold high positions in decision making.
The minister said President Edgar Lungu has taken gender as his agenda by appointing a woman to the position of Vice President in order to make things happen.
He was speaking when he graced this year's International Women's Day in Mbala held at Mbala Secondary School.
Mr. Kambwili also announced that as a way of showing commitment, government will soon start implementing a rural empowerment programme to address issues of poverty amongst women especially in rural areas.
The minister further urged men to accept the responsibility and take action now to make gender equality happen than leave it to women to carry the burden of fighting for it.