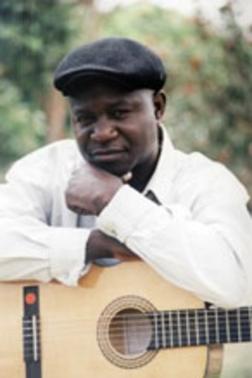 Widely referred to as the pioneer of jazz music in Zambia, Uncle Rex ranks among the most talented guitarists Zambia has ever produced. The shy, down-to-earth, friendly and soft-spoken guitarist earned his experience in the early '70s as a child and continues to mentor young upcoming musicians as well as build his brand to higher heights. There are indeed very few Zambian music artists who can boast of a career spanning almost four decades.
Uncle Rex was born Rex Mukubonda on 28th June, 1962 in Kabwe as the sixth child in a family of 10. Both his parents and 8 of his siblings have since died leaving him with a sister. Rex is married to Grace with two girl children, Racheal and Martha.
Rex went to Northrise Primary School in Ndola before proceeding to Chifubu for his secondary school education. He played football in his early years together with Zambia's soccer icon Kalusha Bwalya who happened to be his classmate from grade 3 to 7 in Ndola.
Although Rex could have chosen to play football for a career, he was more inspired by his father and older brother Jairos, both of whom were accomplished guitarists. Rex's father, who worked for Zambia Railways, was a part time guitarist but never played for any band. But it was Jairos who would successfully induct Rex into the world of playing for bands as a guitarist.
Upon leaving school at Chifubu Secondary School, Rex took music more or less full – time when he joined a band called Hotline. Hotline played all sorts of disco hits of the 70s and 80s and comprised Claude Sosa on bass, Chana Henry on rhythm and Macleans Musonda on drums. The vocals were done by Carlo Vozza.
After a few years, Rex joined another band called Master Q1 which was sponsored by some Zambian of Asian origin. Master Q1, which was very famous on the Copperbelt, played at the Falcon Hotel, BCEL club and numerous private functions.
After playing with Master Q1 for a few years, Rex founded a band called Lifasi which did not last long as music equipment was very difficult to access at the time. The demise of Lifasi probably paved way for Rex to re – locate to Lusaka in 1986. A Lusaka based pastor friend of his older brother Jairos came to Ndola to request him to work in his church as a guitarist. As Jairos was not home at the time, Pastor Mwila had little choice but to travel back to Lusaka with Rex instead.
In Lusaka, Rex worked for a few years with Pastor Mwila at the Apostolic Faith Mission Church before being introduced to Reverend Helmut Reutter of the famous 'GO' Centre. Rex was to work with Reverend Reutter for more than 20 years, playing for different gospel groups and with many people. While working with Pastor Reutter, Uncle Rex played for three bands which included the Glory Singers, Shine On Band and Reality Band.
After many years of forming and playing for various bands, Uncle Rex embarked on a solo career in 2003. Due to his passion for grooming young people to play various music instruments, he earned the name "Uncle Rex" initially as an expression of respect by his protégés. This name has eventually become a respected brand over the years in the music industry locally but also internationally.
Uncle Rex is proud to have been instrumental in helping develop budding careers of most of Zambia's young musicians as he featured in the recording of many of their early albums. Some of these include JK, Joe Chibangu, Lous X, Wille and Nasty D, to mention but a few.
Uncle Rex has been a recipient of various accolades such as KORA nominee for best song in Southern Africa when his "Ziko Lino" song was featured in 2003. He has won 4 Ngoma awards, 2 AZAMI awards and most recently a ZMA award for best jazz album.
Uncle Rex has three albums under his name. Fingerspeech was his debut in 2004, followed by Coming Home two years later. His third, This is me, came in 2010. While Fingerspeech was mixed in taste, Coming Home, as the title suggests, was about traditional and ethnic tunes from Zambia. On the other hand, This is me helped Uncle Rex discover the depth of his skill and the potential that existed for him to soar even higher.
Uncle Rex is currently among the busiest Zambian musicians. He leads a band which also features award winning percussionist Ras Willie which has been together the past three years. The Band performs every Thursday and Friday evenings at O'Hagan's in Woodlands and has also been regular at the new luxurious Radisson Blu, Rhapsody, the garage in Ndola, Kansanshi Hotel, in Solwezi, Times Cafe and LIV night club. Apart from local appearances, Uncle Rex continues to grace international shows in Germany, the United Kingdom and South Africa to mention but a few.
Morning light

Pretty girl (Uncle Rex and the Band)


BY KAPA187