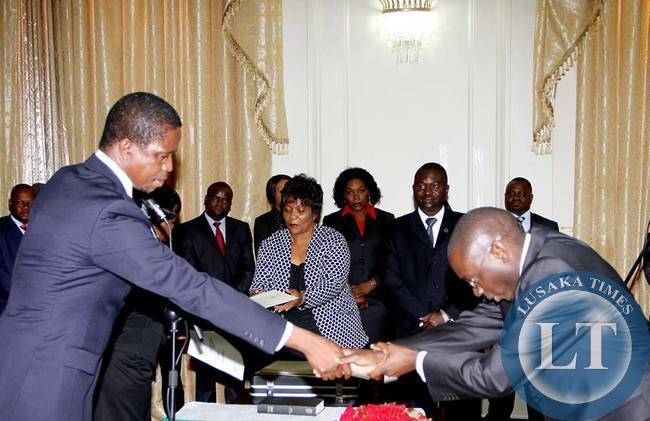 President Edgar Lungu says he has no apologies to anyone for appointing young people to serve in his administration.
President Lungu also said that he will not restrict himself to appointing people only from the civil service and those inclined to the ruling PF.
He has since pledged to appoint more women and more young people in his administration.
President Lungu was speaking this morning at State House when he swore in Mr. Likando Kalaluka as Attorney General and Mr Chalwe Lombe as Permanent secretary in the Ministry of Foreign Affairs.
The Head of State has also conferred the status of state counsel on Attorney General Mr. Kalaluka.
President Edgar Lungu has since advised Mr Kalaluka no to be partisan in his duties.
He said he is confident that Mr. Kalaluka will diligently execute his duties despite the Law Association of Zambia raising doubts over his appointment.
'You are all aware that these two are young men going by the commentaries made in respect of the new State Counsel Mr Kalaluka applies to the new Permanent Secretary, I must say that I have no apologies to make to anyone for appointing these two young men to these high offices of our country,' President Lungu said.
'I have the privilege of dong head hunting where the law challenges me or burden me with the task of appointing people to these high offices. Am a member of the legal fraternity and I know this gentleman as a professional colleague. Beyond that, nothing, not even once has he represented me, not even at the height of the squabbles in PF contrary to what people thought,' he said.
President Lungu added, 'There is nothing wrong in being young and a Zambian. What we need to do for those that think are older and wiser is to assist the young Zambians settle down in their appointments and do their best, let's not pit spanners in their works.'
'So the challenge am putting to you colleagues in the legal fraternity is that when this gentleman was your Secretary in the Council of the Law Association of Zambia, you didn't doubt him, when I was looked around, I noised around all over and I thought he was the best person and that is my judgment and am sure he will be equal to the task.'
He continued, 'But if the colleagues will stand in your way, that would be unfortunate but I would like to believe that whatever criticism was in good faith. As you get to the top, you will find that the top is very rosy, am there myself. Some will come and give you advice, they are older, they have been there, they are wiser, take it. They didn't have the fortune of having been appointed to this high office during their days so take it with a pinch of salt, analyze it.'
President Lungu said the Attorney General should not be partisan.
'Your job is to advice cabinet, Government, you are our lawyer. So don't take partisan interests. If you go through the history of this country, you are not the only young lawyer, your predecessor was equal in age more or less at the time he was appointed. I remember George Chilupe was young when he was appointed. I will appoint people from outside or inside the civil service but I believe all of them have been equal to the task,' he said.
President Lungu said he will not be restricted in his appointments to political party considerations and civil service saying he is yet to appoint a few more young people.
On the new Foreign Affairs Permanent Secretary, Mr Lungu said he is confident Mr Chalwe will excel.
'He was Director Political at the Ministry and he is career civil servant and I believe he is equal to the task. He is a career civil service.'
He urged the new Permanent Secretary to focus on the finalization of the Diaspora policy.
'Zambians living in the Diaspora want to participate in governance, elections, investments and it is important we help them through his policy.'
He revealed that he is being helped by a lot of old politicians to run government.
He said all Zambians should work together as a team.
'Let's not underrate the young stars including the women, bwana Vice President, help me identify more women to appoint.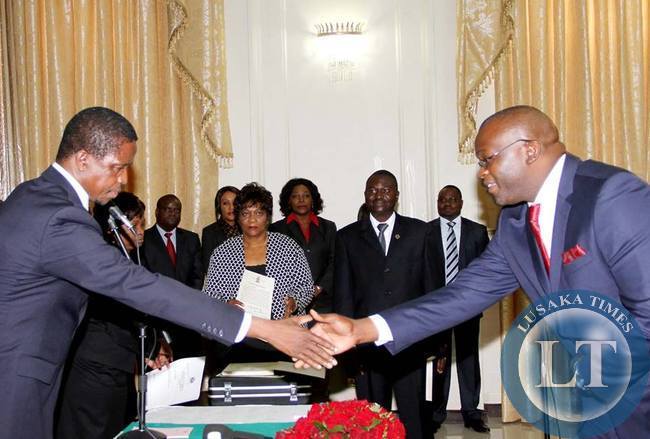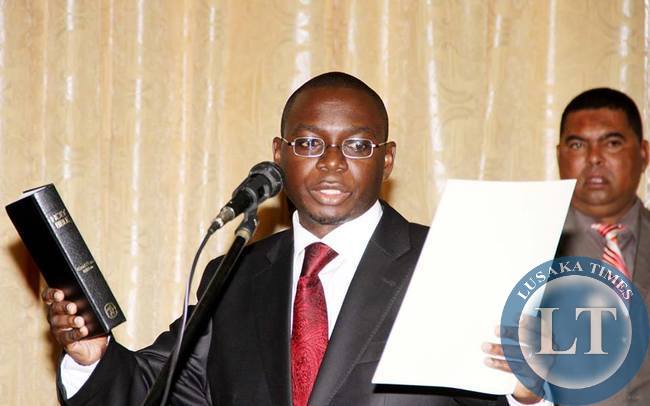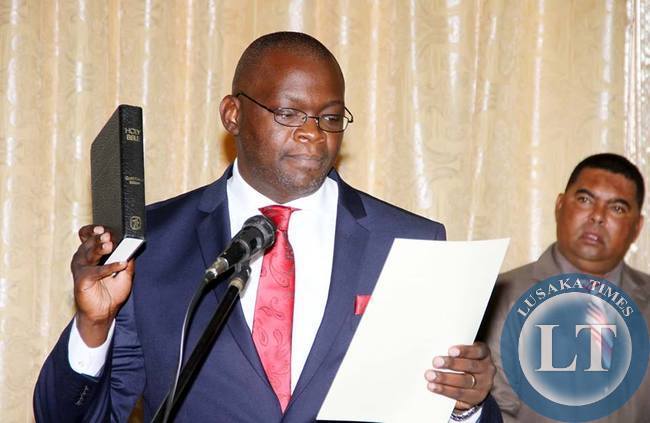 [Read 23 times, 1 reads today]