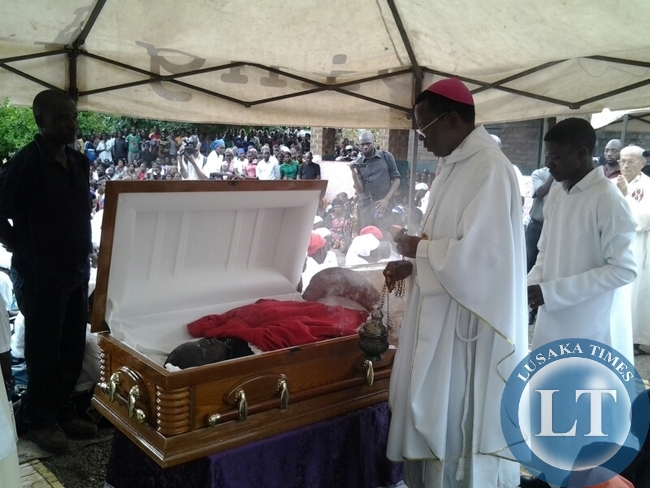 PRESIDENT Edgar Lungu has said he respects the traditional leadership in the country.
President Lungu said in a message delivered by Agriculture and Livestock Minister Given Lubinda at the burial of late Chief Jumbe IV ,Robert Zulu in Mambwe yesterday that the Government would not intefere in the selection of the next heir to the throne because he upholds respect for the traditional leadership.
He said there was need for the family to choose a developmental oriented person who would foster developments in the family,chiefdom and the nation atlarge.
"My plea to you the family members to choose a person who can development in the family,chiefdom,Mambwe District and the country as a whole,"President Lungu said.
He asked the family members to care for the widow and the children of late chief.
President Lungu said the Government would continue working hand in hand with the traditional leadership in the country for meaningful developments.
He said Chief Jumbe was like a chief inspector of developmental projects in Mambwe District adding that he was please to whatever he had done during his tenure before his untimely passing on.
The President said the late chief brought unity as well as development in his chiefdom.
House of Chiefs Chairperson,Chieftainess Nkomenshya Mukamambo II who was represented by Clerk of House Chiefs Michael Pwete said late chief was constructive and intelligent.
Senior Chief Nsefu of the Kunda Speaking People said the late Chief Jumbe had died at a prime when he was needed most in the Kundaland.
He said some people attempted to kill the late chief adding that perpetrators were protected by the investigative wing.
He said it was sad that some people who attempted to kill the chief were let scot free in which two innocent people were imprisoned.
Chief Nsefu said the late Chief was drag to Kitwe High Court by the people who were challenging his chieftaincy.
He appealed to the Government to give protection to the gazzetted chiefs in the country.
And Chipata Catholic Diocese Bishop George Lungu said the late Chief was focus on development and christianity.
Bishop Lungu who presided at a requiem mass said it was sad that some chiefs were mistreating their subjects by giving them hash punishment.
He also reminded people that graveyard was a laybe in which believers should pass through.
The late chief who died last week has been on the throne since 1996.
He was born on 2nd November 1970 and left behind four children and a widow.
The burial ceremony was attended by UPND presidential senior advisors Douglas Syakalima,William Banda,former Chipata Central Member Lameck Mangani,PF Secretary General Davies Chama,Eastern Province Minister Malozo Sichone,State House Deputy Minister Mulenga Sata,traditional leadership and church leaders.