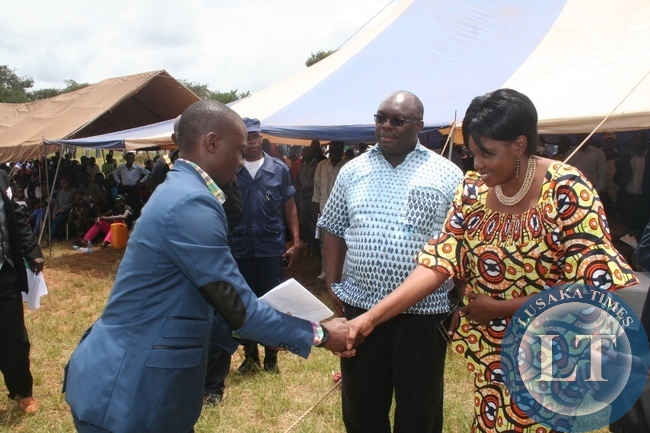 LANDS and Natural Resources Minister Christabel Ngimbu has said foreigners are not restricted by any law to own land in Zambia.
Ms Ngimbu said the government is working on revising the land policy so that more local people can access land.
The minister said in an interview that many Zambians want to own land but most of it is owned by foreigners who are reselling at high prices.
"The government is working on revising the land policy so that the locals can be empowered to also own land but foreigners under the current law are not prohibited from owning land," she said.
Meanwhile, the ministry of Lands is studying reports where Livingstone and Ndola city councils reportedly demarcated ungazzetted land in the forest reserves.
Lands minister Christabel Ngimbu said that the two reports were being studied to ascertain what happened and who was involved before action could be taken.
"I won't rest until the culprits are brought to book. I don't care whether the people involved are from the ministry or the council.
Stern action would be taken as deterrent measures to avoid this illegality," Ms Ngimbu said.
Livingstone City Council was reported to have demarcated ungazetted land, a forest reserve, while Ndola City council also demarcated and sold plots on a piece of land it was not authorised to subdivide.
Ms Ngimbu said it was sad that the councils have taken illegal sale of land as an income generating venture, when they were merely agents of the ministry and are not by law allowed to sale land.
The formulation of the Land Policy which is process would curtail illegal land allocation countrywide.
Government undertook countrywide consultations which culminated into a Draft Land Policy in 2006 which would be revised.
Interviews have been conducted to select the consultant to review the 2006 Draft Land Policy but the successful applicant was yet to be communicated to.
The contract for the consultant has been to the ministry of Justice for clearance.
The objective of the consultant would be to review the draft policy and identify the gaps, identify critical land issues that should be addressed in the Land Policy.
The consultant would also review land policies from selected countries highlighting provisions that have worked to foster economic growth, equity in land distribution and security of tenure.
Zambia Land Alliance (ZLA) Chairperson Eugene Kabilika believes the main reason for illegal allocation of land is lack of strong legal framework that is accepted by all key players in land administration.
ZLA is a network of Non-Governmental Organisations working for just land policies and laws that take into account the interests of the poor.
The organisation promotes secured access, ownership and control over land through lobbying and advocacy, research and community participation.