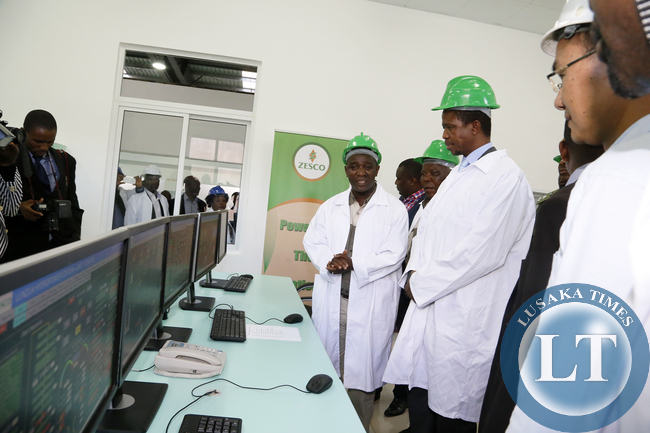 PRESIDENT Edgar Lungu has said the Patriotic Front (PF) will deliver on its promises because it is a party that 'walks the talk'.
Mr Lungu said too many people were positioning themselves to be leaders but the PF was a party that delivered on promises in its manifesto and those made during January's presidential campaigns.
The President was speaking when he addressed people that had gathered to witness the commissioning of the Lunzua power project in Mpulungu on Thursday.
"Making promises is one thing, seeing those promises through is another and fulfilling the promises is a challenge to many but am glad that the PF is delivering," he said.
Mr Lungu said that was the sort of leadership that late president Michael Sata bestowed on him.
He told the gathering that as the PF seeks a new mandate next year, people will consider what the party had achieved so far.
He said there were people that kept criticising him because they were merely bent on making him look bad.
President Lungu urged PF members and Zambians to ignore those people that spent their time attacking him and focus on promoting the party's achievements.
Zambians should instead spend their time working and not listening to those that talk too much.
Meanwhile, president Lungu has said that his Government will continue to borrow and spend money to bring development to people in various parts of the country.
President Lungu on Thursday commissioned the US$52 million Lunzua power project in Mpulungu to supply electricity to the area.
President Lungu said, when he addressed people in Mpulungu on Thursday that it was not a waste of money if it was going towards development that would benefit the people.
Mr Lungu said he had no problems with borrowing money to bring development to the people both in rural and urban parts of Zambia.
"I will not borrow to buy me a suit but I will borrow to develop Zambia," President Lungu said.
He said Government's aim is to improve the living standards of people anywhere in Zambia regardless of whether they are in Mpulungu or Lusaka.
President Lungu said he was overjoyed to see the Lunzua hydro power project completed.
The Lunzua hydro power project is a Zesco and Government project worth $52 million on Lunzua River in Mpulungu which involved decommissioning the existing 0.75 megawatts plant and upgrading it to 14.8 megawatts.
President Lungu urged Zesco to ensure that the plant first served the villages, clinics and schools in the area.
He said Zesco should provide rural Zambians with affordable power and with the help of Government, take electricity to all rural areas.
Zesco acting managing director Victor Mundende said the commissioned power plant will serve Mbala, Mpulungu and Kasama.
Mr Mundende said the project is part of the power plants upgrade in the Northern circuit to increase power by 100 megawatts.
Senior Chief Zombe said he was grateful to Government for the power plant.
The representative of the plant construction company, China National Electrical Company, Wu dong Mei, said she was looking forward to future projects in Zambia.
[Read 39 times, 1 reads today]