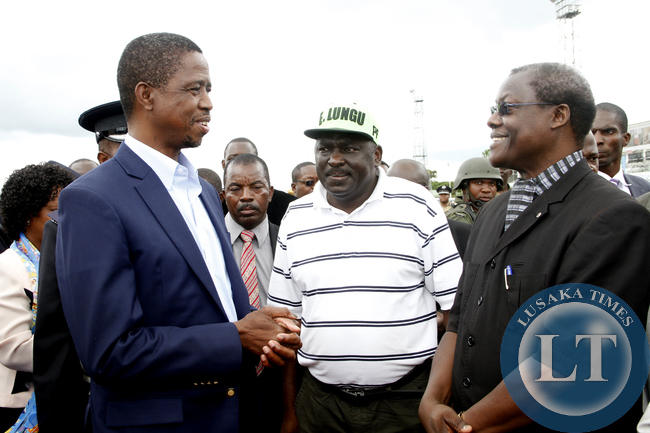 PATRIOTIC Front (PF) secretary general Davis Chama has welcomed the decision by former Petauke member of Parliament Dora Siliya to recontest the seat under the ruling party.
Mr Chama said people are free to express their intentions to contest the Petauke seat under the PF by applying.
"We are a welcoming party. We embrace everyone,'' Mr Chama said.
He said that the selection of candidates who will contest the Petauke and other parliamentary seats under the PF will be done in a democratic and transparent manner.
Mr Chama said that PF is willing to work with anyone who would like to join the party and that those interested should not hesitate to join the ruling party.
Speaking in an interview in Lusaka yesterday, Mr Chama said the PF is an attractive party which many people want to associate with.
He said the PF is an all-embracing party with an open door policy.
Mr Chama said President Lungu has a philosophy of uniting Zambians because it is the only way of ending tribalism.
"The President wants to unite the country and deal with the problem of tribalism which was evident during elections,'' Mr Chama said.
Meanwhile, MMD spokesperson Raphael Nakacinda says the opposition political party is unshaken by Ms Siliya ostensibly leaving the party to seek re-election on a PF ticket.
MMD spokesperson Raphael Nakacinda said the party was aware that Ms Siliya's crossover to the ruling party was imminent because of her activities in the constituency.
"As MMD we will continue fighting to put back the party on the level it was years back even without some members because our ideologies are based on satisfying people's needs," Mr Nakacinda said in an interview.
On Mr Mfula's appointment, PF chairperson for elections Emmanuel Mpakanta said President Lungu expects the provincial executive committee to foster unity in the ruling party.
[Read 24 times, 1 reads today]