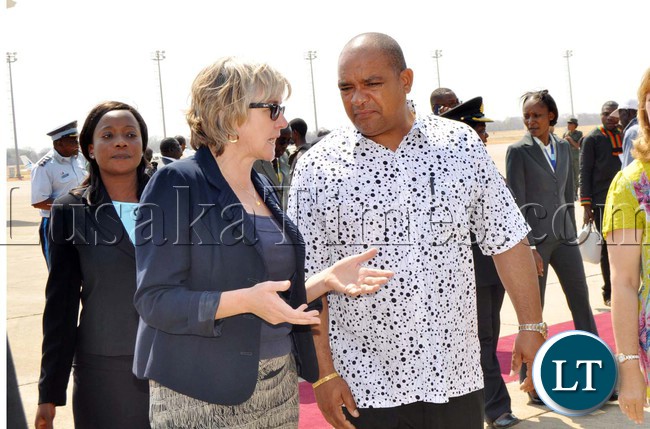 LIVINGSTONE Member of Parliament (MP) Lawrence Evans has promised to address the water and sewerage difficulties in Sawmills compound.
Mr Evans said it was painful that the problem of sewerage and running water was still existing in the area 50 years after independence.
Speaking during the Livingstone press club 2015 world press freedom day after math party at Maramba cultural village on Monday night, Mr Evans said as area MP, he was working very hard to ensure that the compound was connected to the sewer system.
He said the issue of running water and sewerage in Zambezi Sawmills compound was of great concern not only to him and the residents, but that government was committed to seeing that the problem was sorted out once and for all.
Mr Evans said the visit to the compound recently by vice president Inonge Wina was a clear sign of government's commitment to ensure that the problem was solved.
"The vice president Inonge Wina recently visited the area and I can assure you that the situation will be corrected very soon because government is concerned about this issue," Mr Evans said.
Livingstone press club secretary Edwin Mbulo speaking earlier at the same function said Zambezi Sawmills was the only compound in the tourist capital that has had no sewer system after 50 years of the country's independence.
Mr Mbulo said despite the media highlighting on the issue, it was un-acceptable that the situation had not changed.
He said the people in the area historically were using buckets for toilets, which were later collected by the local authority in the mornings; a thing he said was not acceptable in this time and era.
Mr Mbulo said the media's role was to highlight on some of these issues if people responsible for service delivery like the PS, Mayor and MPs were to discharge their duties effectively.
"When you get information from the media as people charged with the resistibility of delivering services, you are able to follow it up and some positives can be recorded," Mr Mbulo said.
Meanwhile Southern Province PS Sipanze Simuchoba said government was committed to delivering in all provinces of the country including southern.
Mr Simuchoba said government's position was that it would continue supporting the media as equal partners in development.
He said despite him being new in the job, he was confident that he would work well with the media and implored on journalists to publicize the work that government was doing.
" Government is committed to delivering and whatever is happening elsewhere in the must also be happening here in Southern Province," Mr Simuchoba said.