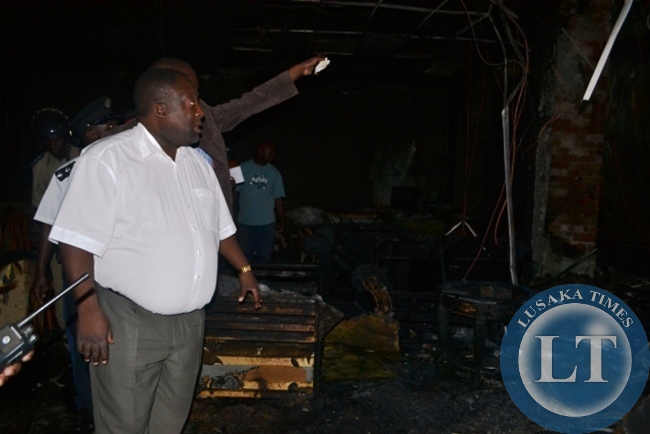 Copperbelt Province Minister, Mwenya Musenge has with immediate effect suspended operations at Global Plantation Limited and ordered the detention of management for child labour and mistreating of workers.
The Provincial Minister ordered the detention of the farm Manager, Human Resource Manager and two other Indians, all part of the company's management.
Mr. Musenge said government will not tolerate child labour and abuse of workers in the country as its mandate was to promote the interest of the local people and not investors.
Mr. Musenge said this yesterday when he visited the Global Plantation Lushwishi Farm Block where workers are reported to be mistreated.
"How can a big company like Gurock engage unqualified contractors and employ children under the age of 14 to work at the farm, child Labour is a very big crime in Zambia and government will not fold hands and watch this happening to the local people, " he said.
He said there were reports that employees at the plantation start work as early as 05 hours and stop at 18 hours without the provision of food, shelter, transportation and over time allowances, adding that is against the country's labour laws.
"I am very saddened to note that these workers do not have work suites and other protective clothing they are supposed to be using in the farm and this is the responsibility of the company to make sure all these are available on site", he explained.
Mr. Musenge said government engages these investors to contribute to the development of the country and create employment for the local people with good working conditions and not abusing them.
"Investors should be working in line with the labour laws of Zambia and at the interest of the local people and not abusing the workers by employing under aged people to increase the labour turn out at the farm, mistreating workers and underpaying them," he said
He further said it was saddening to see Zambian managers employed by foreign companies mistreat their brothers and sisters at the expense of fattening their pockets.
Meanwhile Farm Manager, Mark Choonga denied abusing the workers.
But Principal Labour Officer, Eunice Mifima said the country's labour laws made it clear that all general workers have to be paid k30 per day, provided with food at the farm and accommodation where necessary.
"All under aged workers should be given their money and chased out of the farm and management should make sure that people are paid according to what they are supposed to get, with a provision of a pay slip" she said.
She added that labour officers will be sent to the plantation to ensure labour laws are followed.