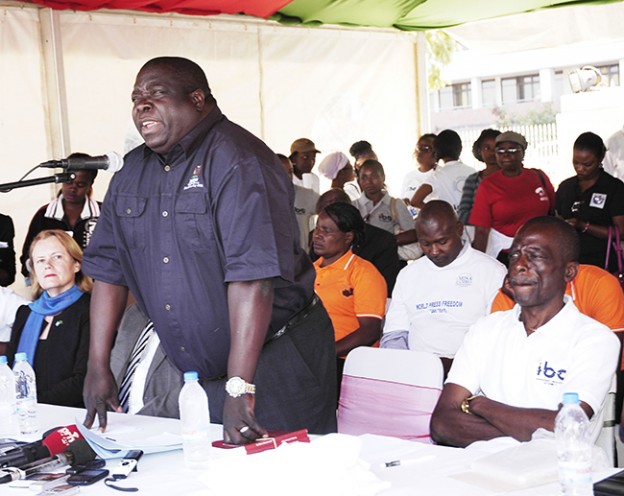 CHIEF government spokesperson Chishimba Kambwili has directed Solwezi town clerk Venture Kafula to convene a council meeting to revise land fees.
Mr Kambwili said it is unfortunate that local authorities have turned land allocation into a source of income and are charging unreasonable fees in service charges and plot premium.
Mr Kambwili, who is Minister of Information and Broadcasting Services, said Cabinet may be forced to fix land fees if councils prove to be inconsiderate.
He said it is Government's desire to see both the rich and poor own land, but that the exorbitant fees being charged by councils are a hindrance.
Mr Kambwili said this on Wednesday in response to callers who expressed concern at the high land fees during a live phone-in programme on North-West Television.
Some callers said Solwezi Municipal Council is charging K5,000 for medium plots and K9,000 for high-cost plots.
And on the same programme, Mr Kambwili said he will propose to the Ministry of Finance to waive, for a year, import duty on radio and television transmission equipment and cameras in next year's budget.
He said this will help build capacity of television and radio stations in the country. Mr Kambwili is in North-Western Province in his continued tour of media houses across the country.
Mr Kambwili says President Lungu has performed extremely well in the three months he has been in office.
Mr Kambwili, who is Minister of Information and Broadcasting Services, said President Lungu means well for Zambians and must be given a chance to deliver.
The minister also said President Lungu will be the PF candidate in next year's general elections and that no one should challenge him to allow him to serve his two full terms in office.
"His Excellency President Edgar Chagwa Lungu has performed very well to the satisfaction of PF members and the Zambian people in the few months he has been in office and he must be given a chance to prove himself," Mr Kambwili said.
He was speaking when he featured on a live programme on Radio Kabangabanga in Solwezi on Wednesday.
Mr Kambwili said the PF wants to build a strong and united party and urged members to bury their differences that arose prior to the January 20 presidential election.
He also urged members to embrace newcomers to grow the party.
"I want to appeal to all PF members that we must embrace new members that are coming because politics is about numbers, but I also want to urge those that are joining PF to respect those that they have found," Mr Kambwili said.
Mr Kambwili, who is also chief government spokesperson, said President Lungu has a heart for the people of North-Western Province and he is determined to develop the region.
[Read 36 times, 1 reads today]