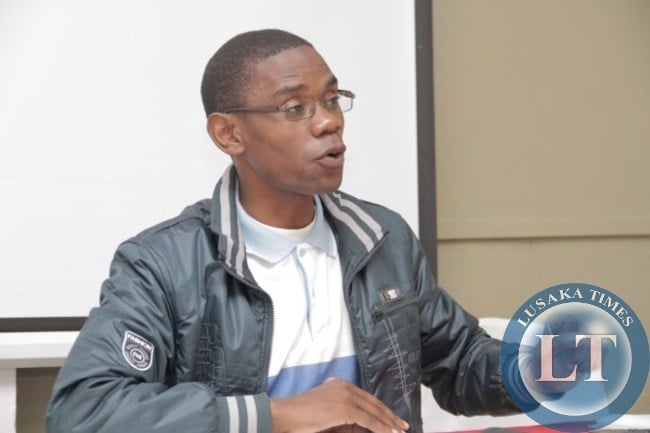 Zambian Voice Executive Director Mutembo Nchito has denied accusations that he has been hired by Mutembo Nchito to discredit the tribunal set up to probe the suspended tribunal.
Mr Tayali said it is a figment of the mind to think that he has been hired by Mr Nchito saying he would rather be hired by the ruling party, like Fr. Frank Bwalya, where there are more benefits.
He said on the contrary, it is the Patriotic Front under the leadership of President Edgar Lungu which is a hired party by Rupiah Banda to fight his battles using state machinery.
'People like Hon. Chishimba Kambwili are being used by default as part of Government. I would not want to take a go on Hon. Kambwili personally as he has done to me, because I respect him as an elder brother and I think he is a principled man,' he said.
'Hon. Kambwili is being used unknowingly (like I have been used before) and I pity him especially as one of the founder members of PF. Fr. Bwalya on the other hand, has to talk to show relevance in PF, otherwise his strategy to dissolve his party and get a job, would be futile,' he said.
Mr Tayali said Fr. Bwalya does not know anything about principle and self sacrifice for others saying this is why he left Priesthood.
'With due respect I wish to remind my elder brother Hon. Kambwili not to get excited with his position as a Minister to trample on my rights by talking about my Rape case which is in court,' he said.
'My case in court should not be used as a grenade fixed on my bottom to shut me up, that if I talk, it will be detonated. I will not ignore wrong things, especially where the rights of individuals are violated. Zambia is for all citizens and those that dwell therein.'
'I have submitted my evidence in Court and I am waiting for justice from the Honourable court not what the Hon. Minister or indeed any other person thinks. I will not negotiate for my freedom when I have not committed a crime.'
He said he is also enjoying the creativity of some online publications like Zambia Reports, by coming up with good fiction about him.
'I take it as good drama to entertain the bloggers. Zambia Reports was purely created to vilify Dr. Rajan Mahtani because he grabbed a house from Papa Corruption (RB).'
'Vilification of people is one thing I learnt former President Rupiah Banda is good at. He did it to President Sata through the famous ZNBC programs currently in court. He also used the DBZ loan to demonize Mutembo Nchito and Fred M'membe. He also verified Hakainde Hichilema and Nevers Mumba when he wanted to stand as President in January this year.'
He added,' from me, citizens should expect more revelations on a number of issues which they have been cheated on. I have made it my business to bring out the truth about the so many things that RB has been creating to implant hatred against citizens of this country.'
Mr Tayali vowed that nothing will stop him from bringing out the truth, justice and equity.
'Not even death because my death will just give birth to more vicious spirits to haunt the corrupt people in this country. Zambians are walking up to see through corrupt leaders.'