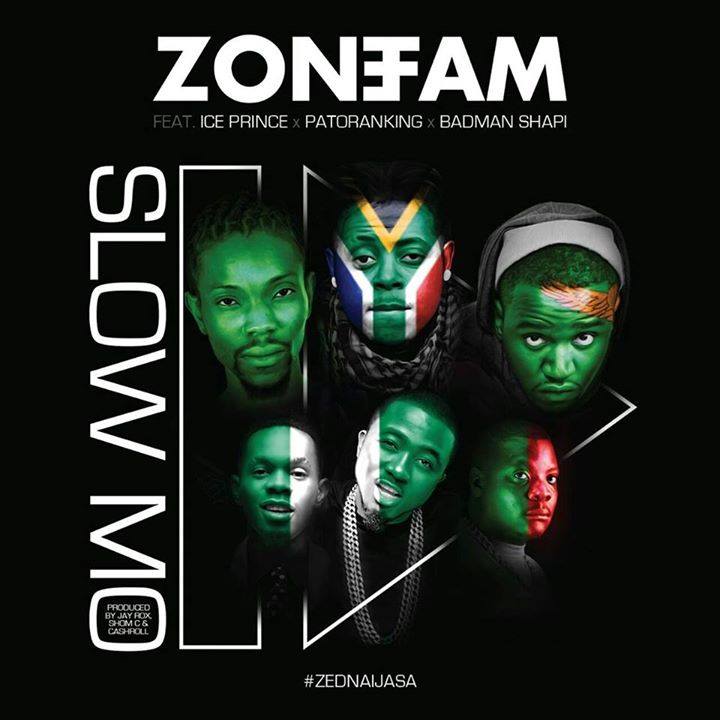 Two years in the making and highly anticipated, the Afro-fusion jam 'Slow Mo' by Zone Fam features an explosive array of African Hip Hop and dancehall talent from both local and international artists and producers.
This lineup of star-studded urban talent includes features from the Nigerian and formidably multi-award winning Ice Prince, the fast rising Naija dancehall superstar Patoranking, and lastly, Zambia's Badman Shapi of Afropop collective Urban Hype. Infusing flavors from all over Africa, and from as far out as Nigeria to Zambia and South Africa; Slow Mo's release date was resultantly set for the 26th of May 2015 (Africa Freedom Day). The date was set as a deliberate attempt at emphasizing the African continent's unity from all angles, music inclusive.
The song content revolves around the infectious dancehall moves of a young African woman and is tailored for both the ladies and their -no doubt- probing dance partners.
With dynamic production inputs from Zambian producers Jay Roxa, Shom C, and Ca$hroll, The track 'Slow Mo' was proudly produced under the curation of Zambian record label Slam Dunk Records Zambia and will be the first song that Zone Fam releases without former group member Thugga.
Ice Prince appears courtesy of Chocolate City
Patoranking appears courtesy of Foston Musik
Badman Shapi appears courtesy of Taurus Musik
"We'd really like to thank Ice Prince, Patoranking and Badman Shapi for their support and involvement in the making of 'Slow Mo'. It'll be the first of many bangers, mega collaborations, and new sounds to come from us, and, we just can't wait to share them with all our amazing fans." – Zone Fam.
Download the song on the following links :
https://soundcloud.com/zonefam/slow-mo-featuring-ice-prince-patoranking-badman-shapi
http://www.reverbnation.com/zonefam/song/23606021-slow-mo-ft-ice-prince-patoranking
http://www.hulkshare.com/quiwy3mipds0
http://www.datafilehost.com/d/10496bf9
Follow them on twitter : @zonefam @iceprincezamani @patorankingfire @badman_shapi
BY KAPA187