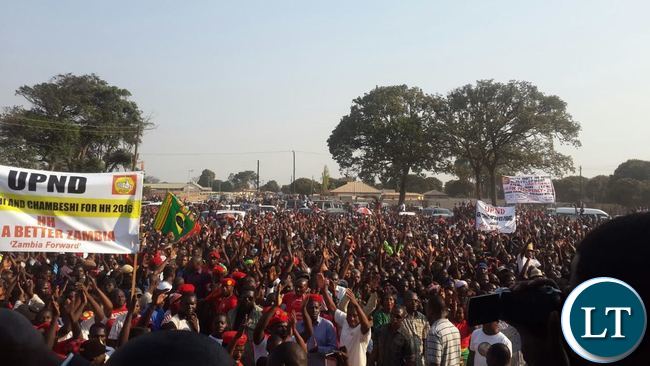 UNITED Party for National Development (UPND) President Hakainde Hichilema has promised the people of Chingola that he will bring back Anglo American to replace KCM if voted into power by 2016 general elections.
Mr Hichilema said this when he addressed thousands of people at the rally during the weekend held at Kaunda square ground in Chiwempala Township in Chingola.
Mr Hichilema who was accompanied by his newly vice president Geoffrey Mwamba commonly known as GBM was received by thousands of supporters at a fully parked rally singing at a high notch slogan "FORWARD, FORWARD"
He said the mining giant run by KCM has not been doing well to alleviate poverty, adding that contractors are paying its employees amounting to K250 and K300 as a monthly salary which is an insult to Zambian people.
"I'm an economist both local and international hence to bring back viable international mining company which will give opportunities to local contractors to do business with mines that can create more jobs to Zambian people", Mr. Hichilema said.
He also promised Jerabos those who does illegal mining activist that his Government will give them licenses to regarlise mining activities so that Zambians can run own mining industries which will employee many Zambians.
Mr Hichilema said his Government will also offer free education starting grade one to universities to the orphans and to the children whose parents are unable to pay for school fees.
He said since he is a good Sheppard who has been looking after a large number of vulnerable and he shall not fail to care for every Zambian.
"Statements raised by Patriotic Front (PF) members are unbearable, saying Hichilema want to sale the country, where do you find the market where they sale countries", Mr Hichilema asked?
Mr Hichilema said the failure of PF Government to run the country has intensively trickled down the economy and made the country to be on deficit in electricity shortages, fuel shortages and high prices of malie meal.
However, Mr Hichilema said PF Government is planning to demolish houses in Chingola which are not well built, now UPND will not demolish any house for a poor Zambian, but will help them to build good houses and negotiate with land owners to give them plots.
Mr Hichilema assured women in markets that will have access to loans to do businesses while tax drivers will have RTSA fees reduced and PSV drivers who renewed licenses after a year will be extended to five years.
And UPND vice president Geoffrey Mwamba said PF has lost grip on the copperbelt province adding that miners have been neglected and youths have no jobs.
Mr Mwamba said President Edgar Lungu has no vision which late President Michael Chilufya Sata has to take the country forward and to stabilize the economy.
"I'm a founder member of PF party and worked together with late president Sata with vision to develop the country but Lungu neglected us and brought in new people to work with", Mr Mwamba said.
"I'm urging you Chingola residents to vote Hichilema for president come 2016 general elections to create more jobs for the youths", Mr Mwamba said.
Earlier Major Kachingwe said he was optimistic that Hichilema will governor well the country because he is a good Sheppard who has a lot of cattle.
Mr Kachingwe said a good Sheppard don't lost any cattle, if he lost one he goes out look for it till he find it, so he will look for the Zambian people well.
"Don't be cheated by Lungu who don't have a vision to rule the country, my slogan when I say Lungu you all say "Lungu alungusha chalo" meaning Lungu has burnt the country.
[Read 92 times, 1 reads today]