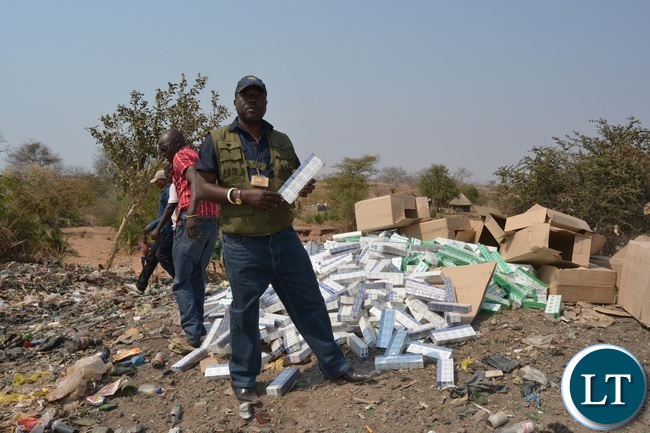 The Zambia Revenue Authority-ZRA has destroyed 46 cartons of cigarettes worth 146 million Kwacha at Chirundu One Stop Border Post.
The cigarettes were seized on February 26th, 2015 after intelligence information from members of the public.
ZRA Corporate Affairs Manager, Mumbuna Kefekisa says there has been no submission either from the driver or transporter on the seizure.
Mr Kufekisa said the truck and trailer would be released upon payment of 300 per cent of the duty or upon payment of the 30 per cent of the value of the truck and trailer.
This is according to a statement released to ZNBC news by Mr Kufekisa in Lusaka.
Meanwhile Ten clearing agents have been arrested by the police at Chirundu Border post after protesting over Governments decision to establish a clearing department in Lusaka.
Among the agents who were arrested includes four women and six men.
The workers feel that the move by government will result in a number of employees losing their jobs at the border.
AND, Zambia Revenue Authority -ZRA- Corporate Affair Manager Mumbuna Kufekisa says the border is not closed despite the protests by some agents.
Mr Kufekisa confirmed this in a telephone interview with ZNBC news in Lusaka.
Meanwhile, operations at Nakonde border post in Muchinga Province this morning came to a stand still for several hours following disturbances caused by the customs clearing agents.
The clearing agents have petitioned government to reconsider the issue of Regional Customs Transits Guarantee which government intends to sign.