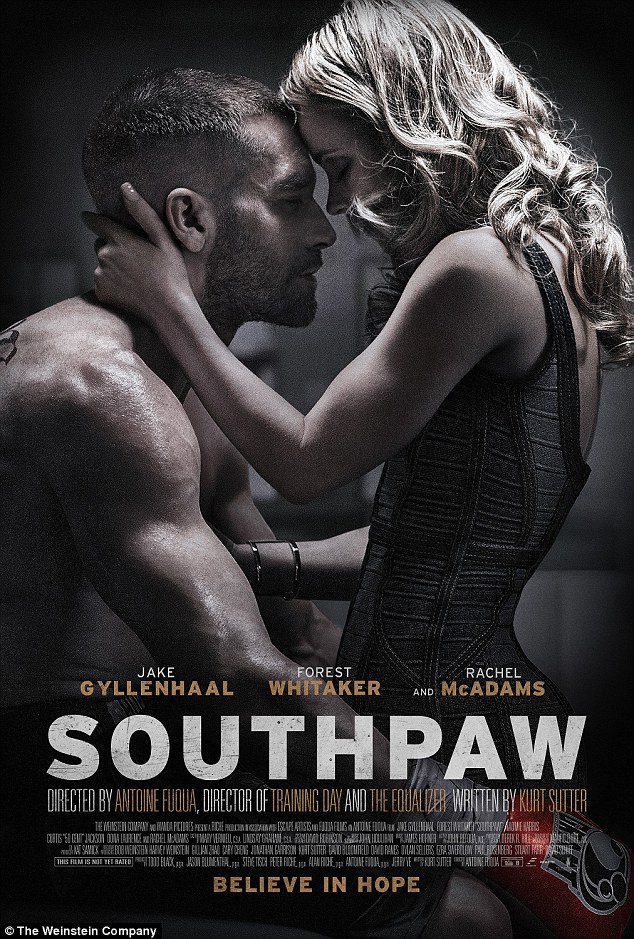 SOUTHPAW tells the riveting story of Billy "The Great" Hope, reigning Junior Middleweight Boxing Champion of the World . Billy Hope seemingly has it all with an impressive career, a beautiful and loving wife (Rachel McAdams), an adorable daughter (Oona Laurence) and a lavish lifestyle. When tragedy strikes and his lifelong manager and friend leaves him behind, Hope hits rock bottom and turns to an unlikely savior at a run-down local gym. 
PROS
Excellent performances by Jake Gyllenhaal and Rachel McAdams.
Interesting and gripping story line.
The boxing scenes were shot very well and did a good job of really putting you in the shoes of the fighters.
CONS
The movie was a bit predictable .
FAVORITE QUOTES
Billy Hope: When I was twelve years old there was this little girl, she was skinny, she had ratty hair, she had been through it. She stuck with me when I was incarcerated a couple of times, and I knew she was there. I wouldn't be here without my wife Maureen.
Maureen Hope: Billy Hope knows how to take a punch, but he also drops bombs.
CONCLUSION
SOUTHPAW is an incredible movie about a man who goes from having nothing ,to having everything he desires ,only to have it all taken away. At its core it is a boxing movie , but it goes deeper into the life and trials of Billy Hope .
Jake Gyllenhaal was fully committed to this character , To get into shape for his role he underwent a grueling training routine, working out six hours a day, and completing 14,000 sit ups every week ,he gained 15lbs (33kg) of muscle!
Southpaw may be a little predictable , but that is not a bad thing . You will really get emotionally invested in the main character ,Billy Hope, and go with him through his tough journey .
RATING 
5 out of 5
[Read 30 times, 1 reads today]