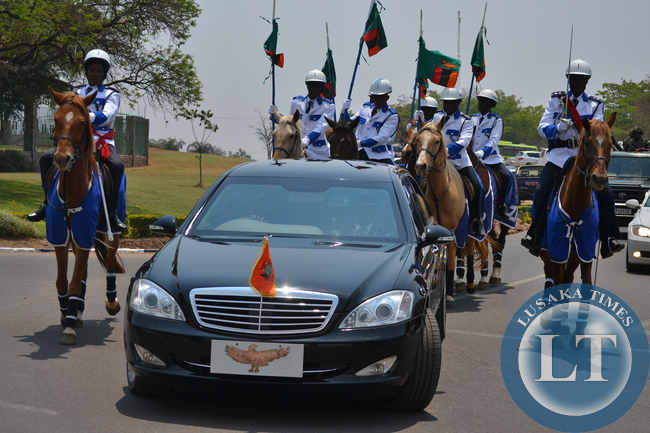 PRESIDENT Edgar Lungu is today expected to officially open the Fifth Session of the Eleventh National Assembly as he marks his first return to Parliament Buildings since ascending to the Presidency this year.
Mr Lungu was previously Patriotic Front (PF) Member of Parliament (MP) for Chawama constituency in Lusaka and served as Cabinet Minister from July 2012 to January this year.
He was Home Affairs and Defence Minister, respectively after a stint as Deputy Minister in the office of the Vice President.
In his maiden address to the National Assembly, the President is expected to make a series of major pronouncements regarding his Government's agenda to develop the country's economy.
The session which Mr Lungu opens today, is also the National Budget session and the President's address would underscore the Government's agenda to reduce poverty levels as anchored on the PF manifesto.
The nation is eager to hear how the Government intends to improve the performance of the Kwacha against convertible currencies, increase the country's electricity generation capacity and propel mineral production to save jobs in the mines.
The Head of State is also expected to outline the country's path to diversify the economy away from mining through sectors such as tourism and agriculture while improvements to other areas such as education and manufacturing would also be outlined.
Apart from MPs, the House today draws audience from Diplomats accredited to Zambia, civil society organisations, faith based organisations and other interest groups including ordinary members of the public.
The Fourth Session of the Eleventh National Assembly adjourned Sine Die on July 31 when a motion to suspend Standing Orders number 20 and 21 (1) moved by Vice President Inonge Wina to enable the House complete its business, was unanimously adopted.
In the last sitting which commenced on June 16, the House sat for 27 days during which 313 questions for oral and written answer were considered.
Thirteen Government Bills were passed while the House considered 22 motions to adopt reports of sessional and select committees.
The House also considered two Private Member's motions while 29 annual reports from Government and Quasi-Government departments were tabled.
Further, 15 Ministerial statements explaining Government policies and programmes on various issues were presented to the keep the House abreast with the economic surrounding.
During the same session, the House received six new MPs elected after by elections held in selected parts of the country.
The incumbents were all elected on the PF ticket and included; Kapembwa Simbao (Senga Hill), Michael Katambo (Masaiti) and Lawrence Sichalwe for Chawama.
Others were Dora Siliya for Petauke Central, Patricia Mulasikwanda (Mulobezi) and Jack Shuma (Malambo).
The House lost two MPs in Chifita Matafwali of Bangweulu constituency and Humphrey Mwanza of Solwezi West.