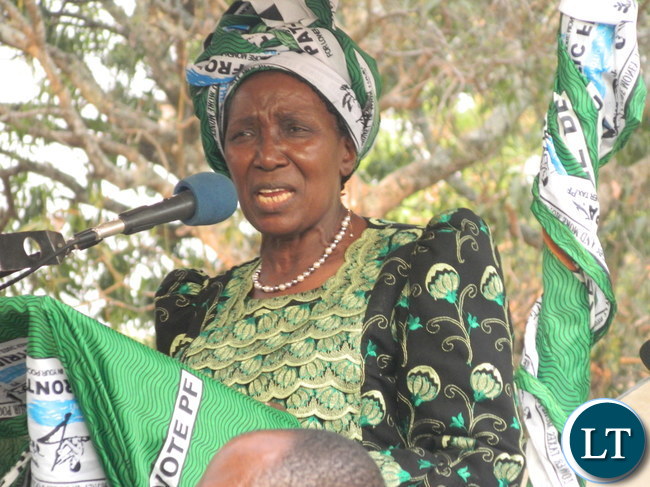 VICE President Inonge Wina has urged traditional leaders in Zambia to stay out of politics so that citizens choose leaders of their choice freely.
Ms Wina said it was unfortunate that some village headmen were stopping their people from voting for certain candidates.
She was addressing Sichili residents in Mulobezi District of Western Province on Saturday where she drummed up support for Patriotic Front (PF) candidate for Sichili Ward by-election, Dennis Lyambai.
PF Livingstone Member of Parliament (MP) Lawrence Evans, PF Mulobezi MP Patricia Mulasikwanda, Western Province Permanent Secretary Mwangala Liomba, Sichili District Commissioner Vivian Mubukwanu, PF Western Province chairperson Charles Mututwa, senior Government officials and scores of PF members in Western Province attended the meeting.
Ms Wina noted that there was a tendency where some traditional leaders were interfering with their people from choosing their preferred candidates.
"I request our traditional leaders to stay out of politics. Sometimes some village headmen will stop their people from voting for certain candidates. Please let your people exercise their democratic right to choose the people they want to represent them.
"This country has chosen a mode of governance called democracy and in a democracy, we have a leeway to have our own freedom of choice and freedom of expression. We also have our own freedom of association and unfortunately for this country, we have discovered that some of these freedoms are being abused by the people who think they have more freedom than others," Ms Wina said.
She also called for a stop a tendency during elections when some parties used money to buy votes.
Ms Wina also chided some political leaders and some sections of the media who were in a habit of insulting the Republican President Edgar Lungu.
"Zambia is known for its good values and peaceful existence and respect that we give to elders.
"What has changed? Human right does not mean you lose respect and it does not entail that we disrespect our elders or traditions. Lack of respect breeds animosity and animosity breeds conflicts," Ms Wina said.
Ms Wina also wondered on why the contractor who was assigned to contract to construct rural health centres in Western Province had failed to execute the job.
"The Government promised you in 2013 that it will construct 645 health posts across Zambia and money was allocated for the project.
"Some districts have already benefited and I need to find out why the contractor who was assigned to contract these rural health centres has failed here because the money has been allocated," she said.
Ms Wina said if the contractor had failed, Government would look for another one to complete the works.
"Our people have suffered enough to walk long distances to the nearest rural health centres and this cannot be tolerated if the contractor has been awarded a contract and they don't complete it. It should be taken away from them," Ms Wina said.
She also said the Simungoma road, which is supposed to be upgraded to connect Mulobezi and Luampa Districts of Western Province, was already being considered by the Government.
"No matter how long it will take, Government has made a commitment to work on Simungoma road and it will be done.
"Secondly in his speech to parliament yesterday, the President pointed out that if the budget of Zambia cannot carry all these developmental needs of the country, we will be engaging the private sector to work with us on infrastructure development such as the construction of roads. These are promises that we made and PF Government is determined to fulfill these promises as they were not empty promises but programmes we were going to embark on and that we will do," Ms Wina said.