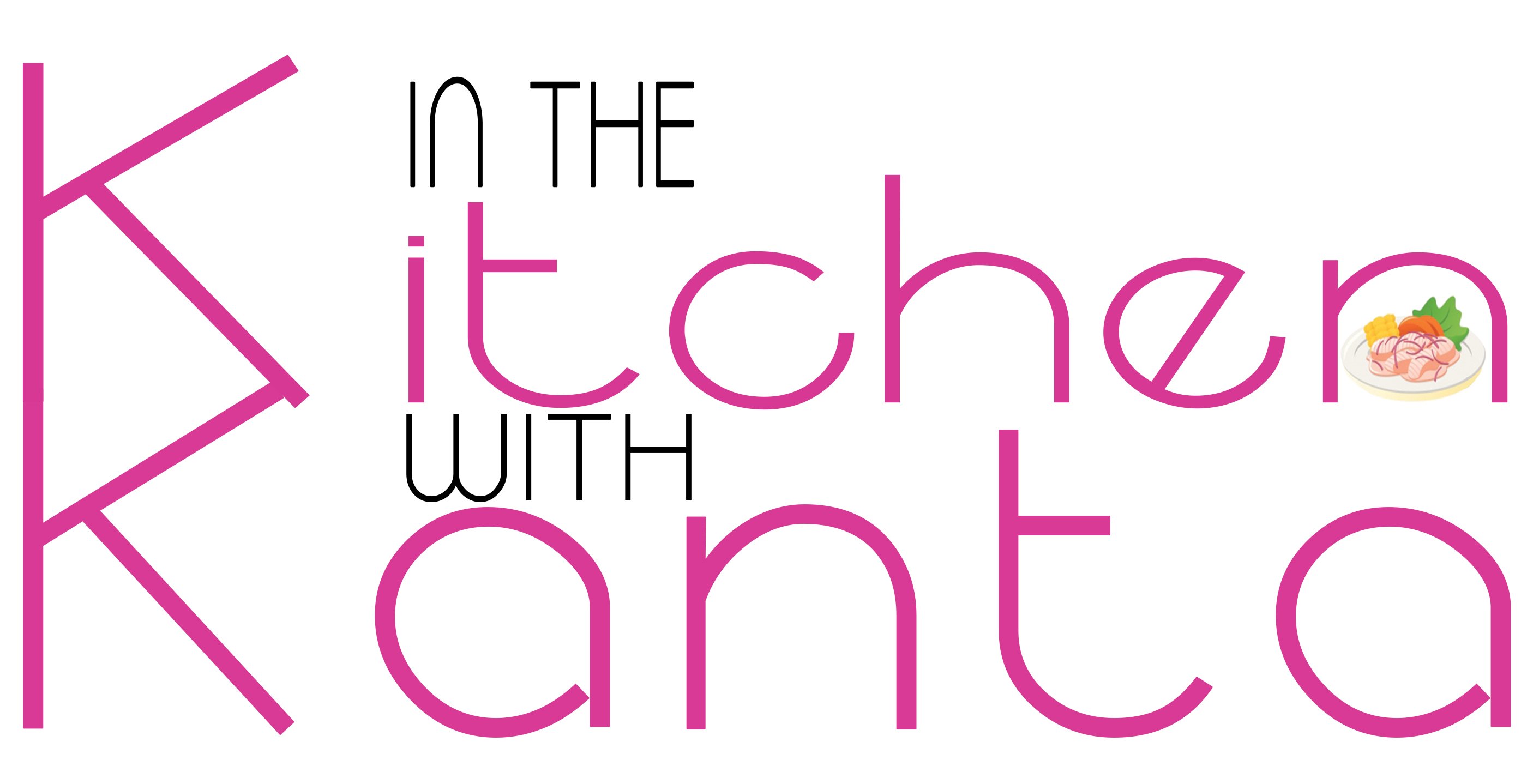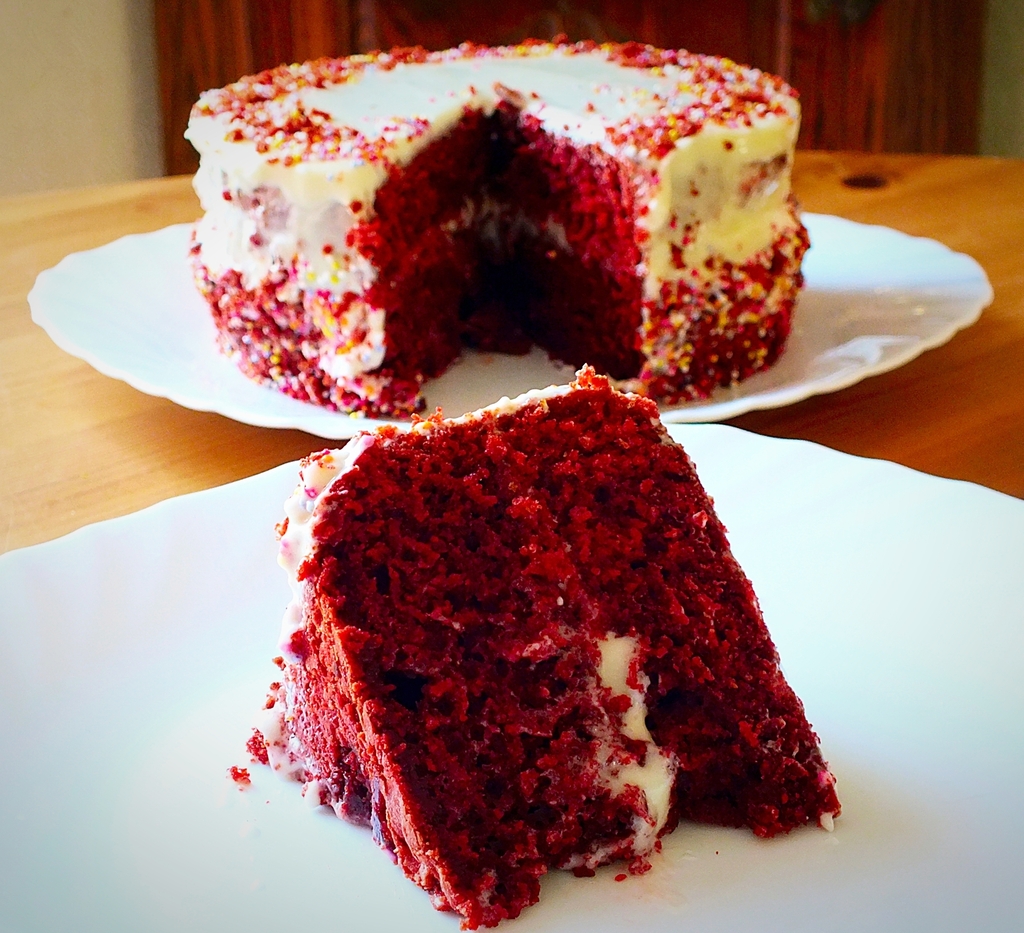 Today I'm taking it back to my specialty of cakes and bringing you this brilliant red velvet cake recipe that can only be described as amazing.  Savoury food is all fair and well, but every now and then you need a sweet treat; and as the weekend encroaches I figured I would share this special recipe with my readers.
If followed properly this recipe will produce a cake so amazing, decadent, rich, moist and darn right delicious; that it will make your granny's knees knock….below you will find the recipe, method and tools to make your very own little piece of heaven.
Preparation and Baking time: 1hr 20min
This will make a 7 inch round cake
Serves 10 people
Ingredients
Cake
280g self raising flour
2 tablespoons unsweetened cocoa powder
1 teaspoon salt
110g butter, at room temperature
250g caster sugar
2 eggs
1 teaspoon vanilla extract
200ml buttermilk (200ml milk and 2 tablespoons lemon juice)
1 tablespoon red food colouring gel
1 teaspoon bicarbonate of soda
1 teaspoon vinegar
Cream cheese icing
300g icing sugar
50g unsalted butter, at room temperature
125g cream cheese, cold

Method
Preheat the oven to 100 – 150 C / Gas 4.   Butter and flour either two shallow 7inch round cake tins, or one 7 inch deep round cake tin.
Make the buttermilk by mixing 200ml of milk with 2 tablespoons of lemon juice (or buy buttermilk).
Combine the flour, cocoa and salt. Leave aside.
In a large bowl, start whisking the butter. Once creamy, add the sugar in two batches, whisking between each addition. Whisk in the eggs one by one, then the vanilla extract.  Start adding the flour mixture to the butter mixture in batches, whisking after each addition. The cake mixture will be thick. Add the buttermilk and food colouring; whisk till smooth.
Quickly combine the bicarbonate and vinegar in a separate bowl or cup. Fold into the cake mixture. Once incorporated, pour the mixture into the tin(s).
Bake in the preheated oven for 25 to 30 minutes, or until a knife inserted in the centre comes out clean. Remove and cool slightly in the tin before turning it out onto a wire rack to cool completely.
Now whisk the cream cheese, icing sugar and butter together, until smooth and creamy.
Once the cake is completely cool, cut it in half, put icing in the centre and cover the top, and sides with more icing.
Decorate to your liking, with either red velvet crumbs from the cake, or sprinkles.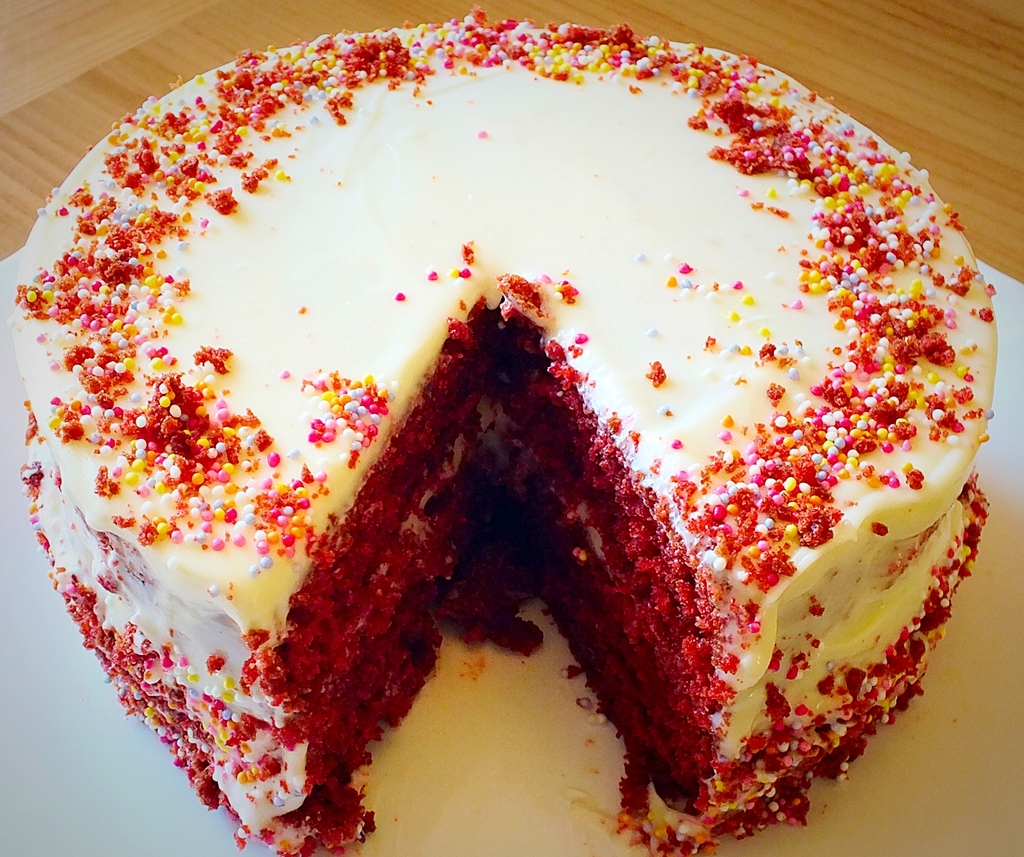 Serving
Slice a big piece of this delightful cake and serve with hot tea or a beverage of your liking.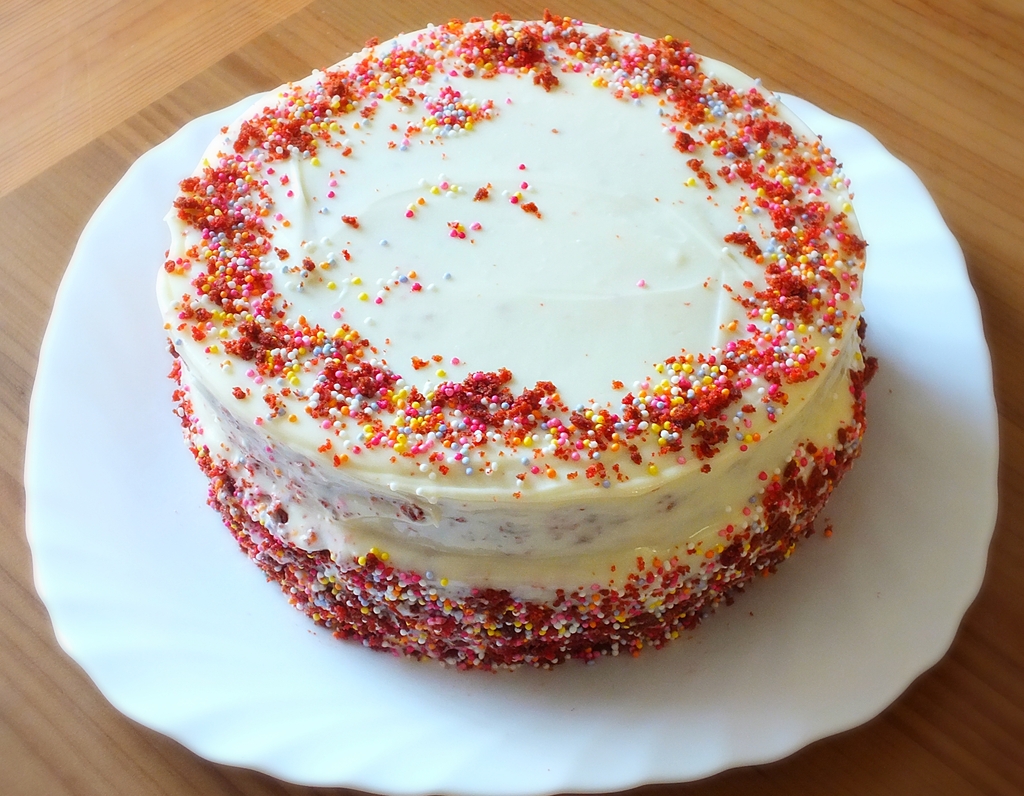 Kanta Temba is a cake maker and decorator. She is also the owner and founder of Kanta Kakes – cake shop.
You can find her work on www.kantakakes.com.  Follow her on twitter @KantaKakes and Instagram @KantaTemba.