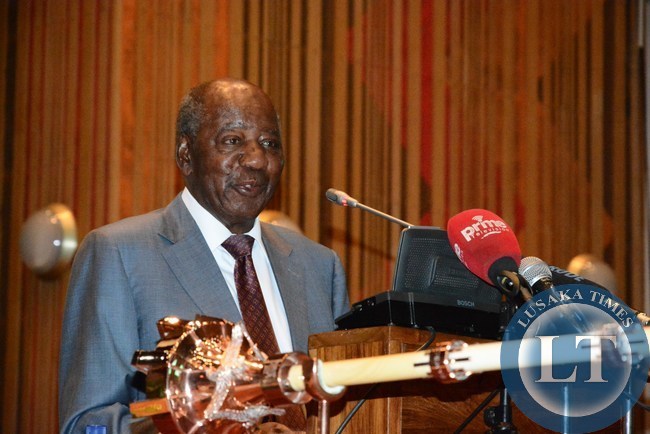 Finance Minister Alexander Chikwanda has disowned a statement issued by an officer in the ministry of Finance disputing Moody's Rating Agency's assessment that Zambia's credit rating had deteriorated.
Mr Chikwanda, who said that he will not serve beyond 2016 owing to age, said that his ministry is embarrassed by the statement issued by the officer disputing Moody's assessment.
Mr Chikwanda has told Parliament that it is a pity that an overzealous officer commented on Moody's assessment of Zambia to the embarrassment of the ministry.
Mr Chikwanda said that the ministry of Finance has no intention of getting into a quarrel with a rating agency, but would simply provide correct information about the economy.
Mr Chikwanda noted that Moody's is a very respectable rating agency and that when provided with correct information they can adjust their rating of the economy.
Mr Chikwanda stated that while the country's economy is facing challenges, it is not on the brink of collapse.
Mr Chikwanda said that the issuing of conflicting statements by government officials on the economy is not helping, saying that policy consistency and predictability is very important for any economy.
And Mr Chikwanda has said that the tumbling of the kwacha has been largely as a result of the chaos in the mining sector that has seen copper prices tumble on the international market.
He said the government will not interfere in the money market but asked that members of the business community be reasonable and not pursue policies that could hurt the financial market.
"We will maintain a free flowing exchange rate but call on the business community to be supportive of our actions as all of us will be affected," Chikwanda.
He told parliament that the fall of the copper prices from $ 7, 000 metric tonnes per dollar to below 5,000 metric tonnes per dollar from $7 000 to $ 5,000 per metric ton had shaken up the financial market as the mines contributed 70% of foreign
exchange.
Chikwanda refuted credibly held views that the kwacha had been the worst performing currency as cited by credit rating agencies.
"Do not take everything that a misdirected reporter at Bloomberg writes, so do not take it as hook line and sinker. Do not pontificate everything that the news agencies give you but we believe if we give them correct information they will adjust," he said.
[Read 61 times, 1 reads today]