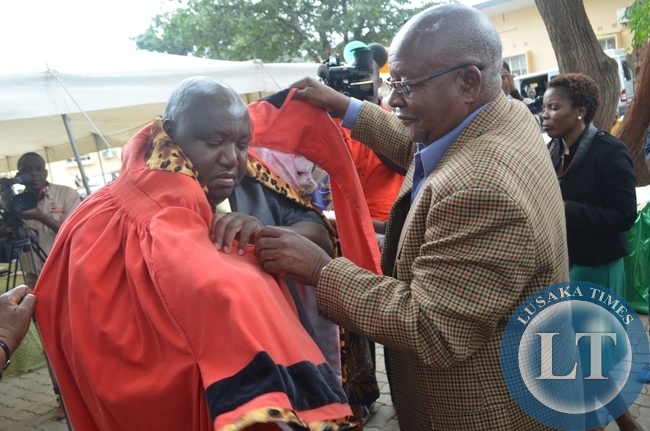 Livingstone Mayor Milford Maambo has been impeached after a committee found him guilty of illegal land allocation.
A seven Member Committee was constituted to probe Mr Maambo and recommended that he should vacant office.
Mr Maambo, who is also UPND Simoonga Ward Councillor, has also been suspended as Simoonga Ward Councilor for six months.
Acting Mayor Fred Sikazwe, who is also Patriotic Front (PF) Akapelwa Ward Councillor, announced this last night after a full council meeting that sat for about five hours.
This was after receiving a report by the ad-hoc committee that was set early last month.
Mr Sikazwe says elections for a new mayor will be held within seven days.
"The Standing orders states that within next seven days, elections should be held and in this matter we will refer the matter to the Ministry of Local Government and Housing for guidance regarding the way forward," Mr Sikazwe said
And Mosi-O-Tunya ward councilor Ziwa Ziwa who was also being probed by the committee has been suspended for six months.
Mr Sikazwe has also said the council meeting will pass on recommendations by the committee on Acting Town Clerk Chanda Chabala who has been reverted to his position as public health director to the Local Government Service Commission.
Meanwhile, Mr Sikazwe has said the council will engage residents who bought the illegal land in the city.
He said the council would treat each alleged case of illegal land allocation separately as well as engage the people who bought the land in question.
He has further appealed to residents to follow laid down procedure when acquiring land.
Recently, the Anti-Corruption Commission (ACC) confirmed that it had also launched investigations into the alleged illegal allocation of plots by some councillors and other officials at the Livingstone City Council.
ACC spokesperson Timothy Moono said his Commission was investigating claims that Mr Mambo and other officials allegedly allocated themselves 18 plots without following procedure.
[Read 87 times, 1 reads today]