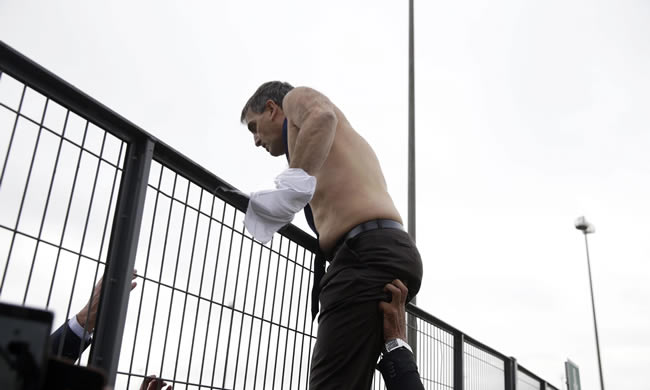 Striking staff at Air France have taken demonstrating their anger with direct action to a shocking new level. Approximately 100 workers forced their way into a meeting of the airline's senior management and ripped the shirts from the backs of the executives.
The airline filed a criminal complaint after the employees stormed its headquarters, near Charles de Gaulle airport in Paris, in what was condemned as a "scandalous" outbreak of violence.
Photographs showed one ashen-faced director being led through a baying crowd, his clothes torn to shreds. In another picture, the deputy head of human resources, bare-chested after workers ripped off his shirt and jacket, is seen being pushed to safety over a fence.
Tensions between management and workers at France's loss-making flagship carrier had been building over the weekend in the runup to a meeting to finalise a controversial "restructuring plan" involving 2,900 redundancies between now and 2017. The proposed job losses involve 1,700 ground staff, 900 cabin crew and 300 pilots.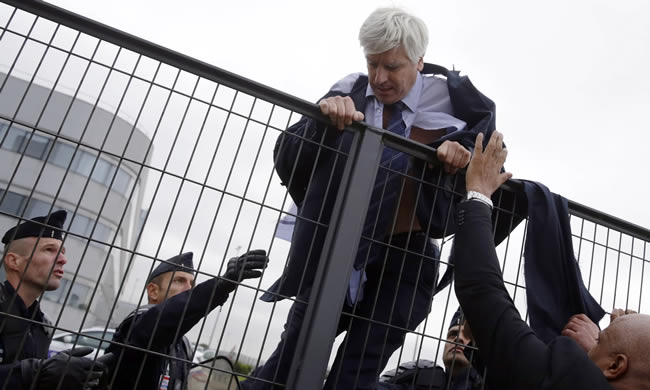 After the violence erupted at about 9.30am on Monday morning, there was widespread condemnation from French union leaders who sought to blame each other's members for the assaults.
Laurent Berger, secretary general of the CFDT, said the attacks were "undignified and unacceptable", while Claude Mailly, of Force Ouvrière (Workers Force) said he understood Air France workers' exasperation, but added: "One can fight management without being violent."
Manuel Valls, France's prime minister, said he was "scandalised" by the behaviour of the workers and offered the airline chiefs his "full support".
Air France said it had lodged an official police complaint for "aggravated violence".
Several hundred airline employees had gathered to demonstrate outside Air France's head office and members of senior management were greeted by an angry crowd shouting and waving flags and placards featuring the company chiefs portrayed as criminals in police mugshots. As executives entered the building, dozens of workers forced their way into the committee room shouting "this is our home".
The Air France president, Frédéric Gagey, escaped unharmed. However Pierre Plissonnier, vice president of the airline's Orly airport hub was attacked. Xavier Broseta, deputy director for human resources and labour relations, also felt the workers' ire and had to flee semi-naked.
Increased competition from Middle Eastern rivals and budget airlines recently prompted the loss-making group to seek a reorganisation and €1.8bn (£1.3bn) savings. The company is also planning to close five long-haul routes and sell off 14 of its larger, long distance aircraft.
On Monday morning, before the demonstration, Philippe Martinez, secretary general of the powerful CGT union, told RTL radio: "For several years now, successive heads of Air France have suggested rescue plans … each time, it's a bottomless pit with the same suggestions. I believe they are trying to set one lot of us against the other. We need a real expert appraisal of the situation." He admitted that Air France had been hard hit by the deregulation of the industry and the popularity of low-cost airlines.
Source:the Guardian