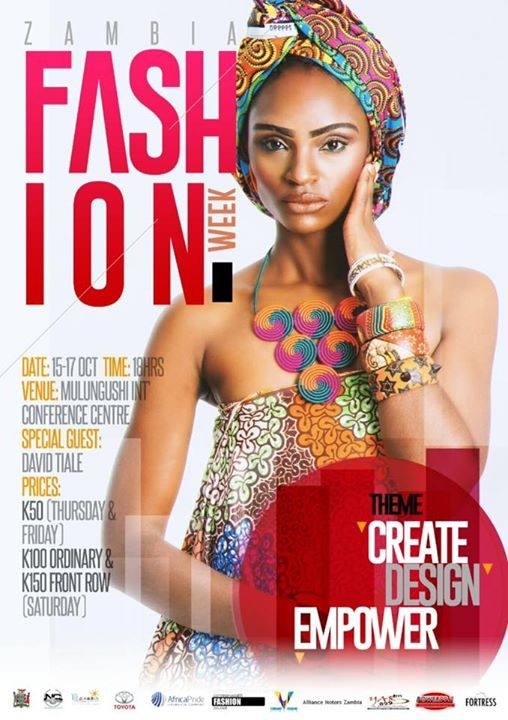 The Zambia Fashion Week has cultivated a loyal following within the target audience for local brands, young discerning trend-setters that shape opinions and tastes among Zambia's elite.
It is that time of the year when all roads for fashion lovers lead to the Zambia fashion week. This year's event is scheduled to run from October 15th to 17th. Mulungushi International Conference Center will house this year's shows that promise to be bigger and better. Time for all shows is 18hrs . Tickets on sale at the venue from the New Wing . The theme for this year is Create, Design, Empower.
This year, the fashion show boasts of a record 52 Zambian designers who have confirmed showcasing. This year's event will also see five designers from the region, including David Tlale, who will be the guest designer.
This year's fashion week promises to be exciting as the organizers have spiced it up by including plus size or voluptuous male and female models. A total of 42 models are expected to catwalk.
Zambia Fashion Week organizer Karen Nakawala said this theme was chosen after the realization that through creation and design, various designers are empowering other people through the different jobs they are creating.
"There are no special categories being showcased but each designer has something unique that they bring to the table, and that is what makes the show very exciting."
"I see Zambian Fashion week as the hub of fashion in this region in the next five years and being compared to big shows such as Africa Fashion International , Mercedes Fashion Week , Swahili Fashion week and others, but we need to work together to achieve this , and it is not impossible" she said 
Zambia Fashion Week has been run by Karen Nakawala since 2009 and has managed to create a platform for both Zambian and regional designers to showcase their work, but equally rekindle what was once a thriving textile industry.
The show will also feature children's category, and these will be dressed by Charity Nyirongo of Mo Creations.
Zambian Fashion Week will be supported by Alliance Motors, Africa Pride Insurance, National Arts Council, Zambia Tourism Board, Toyota Zambia, Fortress Media, Hotel Intercontinental and Vibriant Trading.
For fashion lovers, this is a must see show.
Let us support our local fashion industry.
On 18th October there will be a Trunk Sale day , from 12hrs to 17hrs at Intercontinental Hotel Pool Side . Get yourself ready to buy whatever design you love. The event will be hosted by David Tlale and the Zambian Fashion Week team .
(DailyMail)
BY KAPA187
[Read 113 times, 1 reads today]