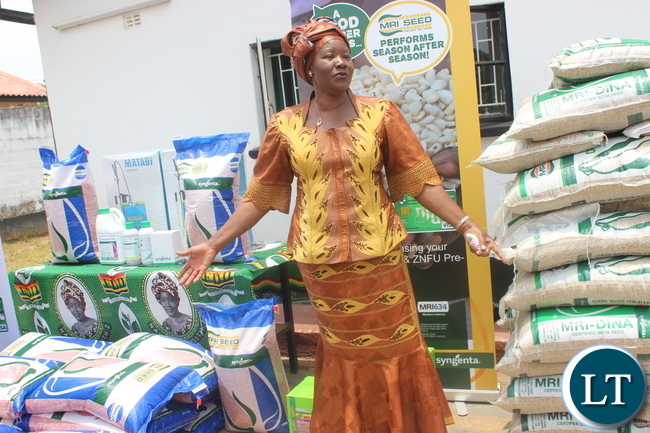 GOVERNMENT has not allowed the Forum for Democracy and Development (FDD) to conduct a farming input distribution programme similar to the one that Government is executing.
Agriculture minister Given Lubinda said in Parliament yesterday that Government had not allowed FDD president Edith Nawakwi to conduct a farming distribution exercise to farmers which is similar to the Farmers Input Support Programme (FISP).
Ms Nawakwi, last week, launched a farming input distribution programme valued at K500, 000 to benefit 300 farmers in various parts of the country.
The programme is similar to FISP that Government through the ministry of agriculture was undertaking benefiting over one million farmers.
"Government is not aware of the programme, its objective, coverage and this is an irregularity which the FDD president should correct by registering this exercise with the Registrar of societies," Mr Lubinda said.
Mr Lubinda said this in response to the question raised by Patriotic Front (PF) Kapiri Mposhi Member of Parliament (MP) Eddie Musonda who wanted to know whether the FDD a political party was allowed to conduct a programme similar to the FISP by Government.
He said for any person who wished to conduct such a programme should register with the Registrar of Societies and inform the ministry of agriculture to avoid duplication of the programme.
A search at the Registrar of society revealed that there was no Non Governmental Organisation (NGO) registered to conduct such a programme.
Mr Lubinda clarified that the programme would not interfere with the nationwide FISP benefiting one million people while the programme by FDD only benefits 300.
He said if the programme was being done in good faith, the FDD should inform the ministry, just like other organisations were doing to ensure there was no duplication of beneficiaries.
MMD Kasempa Member of Parliament (MP) Kabinga Pande questioned the minister if Government would allow the FDD to continue with the programme if it informed Government.
Mr Lubinda said Government could not stop the FDD depending on the objective behind the programme.
Meanwhile, Home Affairs deputy minister Panji Kaunda said the riots in Roan and Mpatamatu townships last week were caused by the miners who were demanding payments of the dues and improved condition of service from the Chinese mining company.
Col Kaunda dismissed ascertains that the riots were politically motivated.
He told the House that three people were arrested and charged with conduct likely to cause the breach of peace.
Col Kaunda said this in response to the question raised by MMD Mpongwe MP Gabriel Namulambe who wanted to know what caused the riot in the two townships and the measures that Government was undertaking to ensure that similar incidents do not reoccur.
[Read 25 times, 1 reads today]