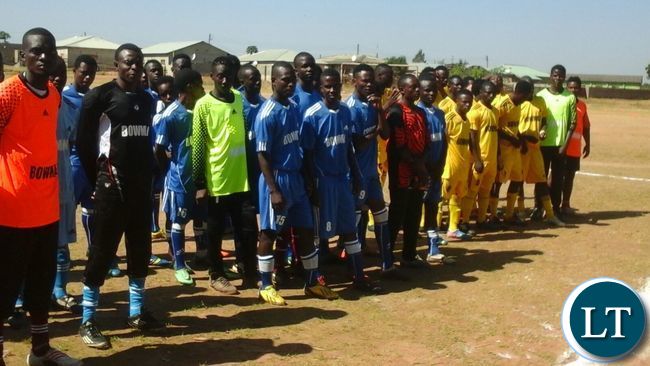 Over 100 youths are participating in this weekend's inaugural Bowman Lusambo Football tournament in Ndola's Kabushi constituency.
The tournament which has seen 12 Under 17 teams drawn from eight wards in Kabushi constituency will culminate in the final to be played today.
The teams will battle it out across four different pitches dotted across the constituency on a round-robin basis.
The final will be preceded by a women's football game as curtain riser with live music performances by some of Zambia's leading musicians.
Tournament sponsor Bowman Lusambo flagged off the tournament yesterday morning at Milemu Grounds in Kabushi Township.
Addressing the players and officials, Mr Lusambo called for fair play from all the players.
'Let us have a competitive but fair tournament. We are all brothers here so let us play fair football in line with FAZ and FIFA rules,' Mr Lusambo said.
He encouraged the players to aim higher in their football careers so that Kabushi could produce national team players.
'We want to produce the next Kalusha Bwalya, the next Gibby Mbasela from here, we have good connections at FAZ and if you prove yourselves in this tournament, we can facilitate that you get into bigger teams in the FAZ league and eventually into the national team,' Mr Lusambo said.
Mr Lusambo who has declared his intentions to run for the Kabushi parliamentary seat in the 2016 election pledged his commitment to investing in youth development in the area.
'We believe the youth are an important element in achieving what we want to achieve in Kabushi and there is no better way to getting them together than the game of football. This is a unifier and we want a spirit of togetherness among our youth as we seek to represent them in Parliament,' he said.
Mr Lusambo also announced that the he will turn the tournament into an annual event with increased participation from teams from other constituencies.
He also pledged to procure a 16 seater bus for the winning team next season.