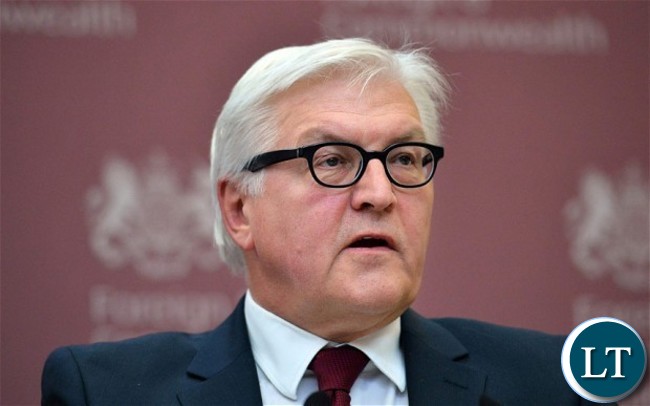 German Federal Foreign Minister Dr Frank-Walter Steinmeier will visit Lusaka from 20 to 21
November 2015. He will be accompanied by Members of the German Parliament, a high ranking
business and cultural delegation, as well as the media.
Minister Steinmeier's program in Lusaka foresees meetings with H.E. President Edgar Chagwa
Lungu, with Hon. Harry Kalaba, Minister of Foreign Affairs, as well as with representatives from the
opposition parties (MMD, UPND, FDD, and NAREP). In addition, Minister Steinmeier – together
with Hon. Margaret Mwanakatwe, Minister of Commerce, Trade and Industry, will host an
Economic Business Roundtable exploring the business climate in Zambia and investment
opportunities for German companies. Minister Steinmeier will also pay a visit to one of Lusaka's
Compounds in order to familiarize himself with issues such as access to water and sanitation,
urbanization and HIV prevention measures.
On the eve of Foreign Minister Steinmeier's arrival in Lusaka, German Ambassador Bernd Finke
said:
"I am very much looking forward to Minister Steinmeier's visit to Zambia. Minister Steinmeier
comes in recognition of the long standing cordial relations between Germany and Zambia, and to recognize Zambia's international reputation of being a beacon of peace and stability in Africa. The fact that the Minister is accompanied by a high ranking business delegation is an expression of confidence of my country in Zambia's ability to manage the current economic and energy crisis. The meeting with representatives from MMD, UPND, FDD and NAREP will provide Minister Steinmeier with an overview on the opposition parties' views on the current political and economic situation in Zambia. Foreign Minister Steinmeier's visit to Lusaka will be brief, but I trust that it will be a very fruitful visit, which will encourage us to further deepen our bilateral relations and to speed up implementation of existing projects in the fields of water and sanitation, agriculture, energy, good governance and wildlife protection."