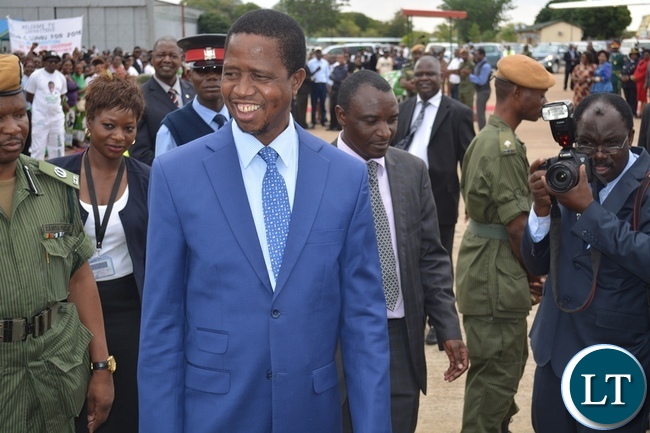 PRESIDENT Edgar Lungu has with immediate effect revoked the law that imposed presumptive tax on bus and taxi operators.
The Head of State has also reversed Statutory Instrument (SI) 41 of 2015 that increased the unit fee from 20 Ngwee per unit to 30 Ngwee per unit.
The fees were revised in accordance with the provisions of Statutory Instrument No.41 of July 2015 of the Fees and Fines Act, which increased the value of the Penalty Units from 20 ngwee to 30 ngwee per Penalty Unit.
The Zambia Revenue Authority (ZRA) also introduced the presumptive tax on bus and taxi operators this year.
The presumptive tax is a tax imposed on an informal sector like transport and when it was introduced, bus operators were meant to pay tax of between K1,600 and K19,700 per month at ZRA offices.
Bus and taxi operators protested saying that paying of the taxes was cumbersome and consequently costly.
Special Assistant to the President for Press and Public Relations Amos Chanda said in an interview yesterday that President Lungu had ordered the presumptive tax that had affected the transport sector and reversal of the SI 41.
"Following submissions from the bus and transport operators, the President has with immediate effect directed the reversal of the presumptive tax and the SI 41," Mr Chanda said.
He said Mr Lungu has directed the ministries of Finance and Transport to revert to the initial fees and fines that transport operators were paying.
Mr Chanda said President Lungu has ordered the two ministries to review the entire penal and tax Law that affect the transport business to ease their operations and make them more effective.
"For example, the bus operators complained that the presumptive tax took a lot of their time as they took about three hours at ZRA which made it cumbersome for them to operate," he said.
He said bus and taxi operators should know that the review is with immediate effect and should corporate with RTSA and ZRA.
The revised fines ranged from K225 to K450 for charges penalty offences which include traffic offences, unlicensed Motor Vehicle,expired Test certificate and fitness, defective tyres talking on mobile phones whilst driving.
[Read 69 times, 1 reads today]