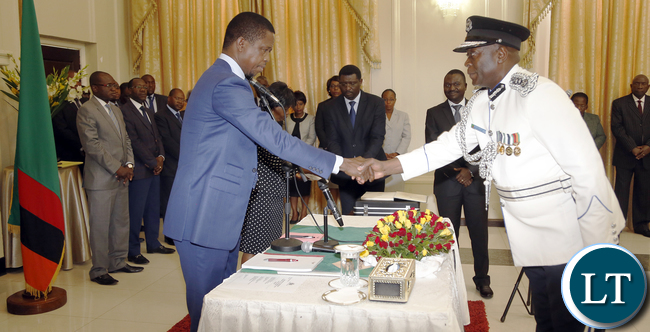 PRESIDENT Lungu has warned that Government will not shield anyone serving in public office once found wanting for corruption.
He has also urged the Anti-Corruption Commission (ACC) to guard against "merchants of malice" who want to use it for vengeance against others.
"I have never, and will never, shield anyone serving in public office once found wanting by the law on charges of corruption," he said.
President Lungu said this during the commemoration of the United Nations International Anti-corruption Day under the theme 'Break the Corruption Chain' at Government Complex in Lusaka yesterday.
The head of State has also warned public officials and contractors that should they siphon public funds or any other public resources intended for projects, they will face the law.
President Lungu urged the ACC to always remain vigilant so that it can resist overt and covert attempts by some people who seek to use it as an instrument to settle scores.
He directed that all public institutions that have not yet created integrity committees to do so because this is now a requirement by law.
President Lungu urged Zambians to break the corruption chain by exposing corrupt acts and reporting these to relevant authorities with confidence that they will be protected against unlawful reprisals.
"This year's theme demands of us, individually and collectively to exercise high moral integrity in order to fight corrupt practices. This entails that we should be responsible and patriotic citizens always willing to blow the whistle whenever and wherever corruption manifests its ugly face," he said.
He said there is no better way of describing corruption any more than that it is a social problem which leaves devastating effects on governments globally.
He said corruption also robs the poor of their right to enjoy public goods and services.
"Corruption is simply an evil that fuels greed and self-interest because individuals charged with positions of authority abuse their positions for personal gain thereby doing a dis-service to the poor in society,"
"My government re-affirms its commitment to zero tolerance to corruption and will continue respecting the autonomy of operations of the law enforcement agencies, to enable them exercise professionalism and diligence," he said.
And ACC chairperson Justice Timothy Kabalata said the commission will continue devising ways aimed at breaking the corruption chain in the country.
Justice Kabalata said corruption is devastating on the country's economic growth, and that if left unchecked, can do the nation more harm.
Transparency International Zambia (TIZ) president Lee Habasonda challenged political parties to tell the nation where they get their funding during campaigns as a matter of transparency.
He also called on political parties to avoid corruption during the 2016 election campaigns to avoid losing public funds in court cases.
Mr Habasonda also called for a stop to the harassment of the ACC, saying it must be allowed to operate independently.
And African Parliamentarians Network against Corruption (APNAC) Zambia Chapter chairperson Cornelius Mweetwa called on President Lungu to see to it that the Access to Information Bill is speedily enacted in a bid to promote transparency and accountability in the running of public institutions in the country.