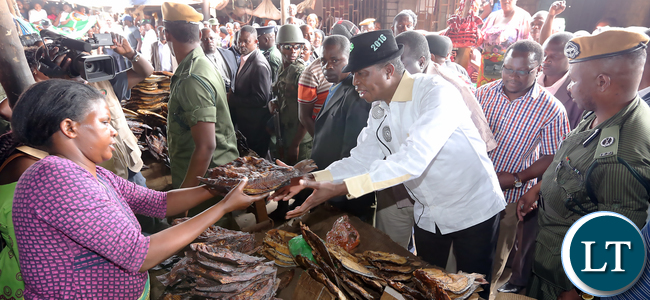 MARKETEERS at Chisokone Market in Kitwe have started receiving soft loans under the Presidential initiative and have commended President Lungu for fulfilling his promise of empowering them financially to boost their businesses.
During his visit to the Copperbelt, President Lungu assured marketeers in Chingola, Kitwe, Kalulushi and Ndola that loans will be disbursed to traders to help them sustain and grow their businesses.
A check by the Daily Mail yesterday found marketeers filling in forms for the soft loans while others had already collected their money and planning how they were going to spend it.
And speaking in an interview yesterday, Association of Vendors and Marketeers in Zambia (AVMZ) president Abel Chikwa said K1 million was disbursed to Chisokone market traders.
Mr Chikwa said so far, more than 500 marketeers have obtained the soft loans since the exercise started this week, while many are still submitting their details to the people disbursing the loans.
"So far, the disbursement of loans to the marketeers is really going on very well. Some marketeers who obtained loans earlier have even started their businesses for them to quickly start paying back the loans," he said.
Mr Chikwa said the traders do not need any sureties to obtain the soft loans but only proof of residence in the market.
He said AVEMZ is helping Government identify the marketeers who operate in the market to avoid giving the loans to people who will have difficulties in paying back the money.
Mr Chikwa commended President Lungu for his commitment to improving the lives of marketeers through the disbursement of loans.
And Hilda Mumba, 43, a trader at Chisokone market, praised President Lungu for being a father of the poor.
"We had people who would come to the market with nothing to sell but today they have gotten loans to help them improve their businesses. Indeed President Lungu is a father of us the poor people of Zambia," Mr Mumba said.
Another trader, Jackson Ngwezi, said the soft loan he had obtained from the government has really transformed his business, which had not been doing well because of limited capital.