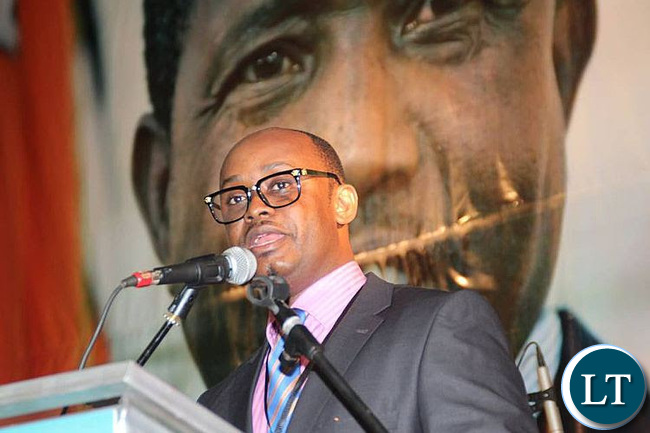 UPND SHOULD BE WARNED NOT TO DRAG THE MWINE LUBEMBA CHITIMUKULU IN ITS TRIBAL CIRCUS – SUNDAY CHANDA, VICE CHAIRPERSON, PF MEDIA AND PUBLICITY COMMITTEE
Mpika, Zambia, 31ST December 2015 – We wish to caution the United Party for National Development (UPND) leadership to desist from dragging their Royal Highnesses in their desperation to throw their infamous tribal jacket. The statement purported to have been issued by the Bashi Lubemba denouncing Patriotic Front (PF) Secretary General Mr. Davies Chama goes to expose the lowest levels the UPND is prepared to sink to in order to dupe the unsuspecting public.
UPND and Mr. Hichilema must admit that on 20th January 2015, Zambians elected His Excellency President Edgar Chagwa Lungu to preside over the affairs of the nation and he has been equal to the task. While UPND and the cartel presented President Lungu as a feeble and visionless leader, Zambians can attest that President Lungu is that unifier, inclusive, humble and visionary leader Zambia needs. As 2016 dawns on us, Zambians can be assured of President Lungu's commitment to a new constitution order as demanded for by different generations of Zambians. While the country would face challenges on different fronts, President Lungu has continued to provide leadership while the Opposition, especially UPND has failed to provide solid alternatives in national discourse.
As we enter 2016, we are calling on the UPND and Mr. Hichilema to among other things:
1. Re-claim the UPND of late Anderson Mazoka, Patrick Chisanga, Sakwiba Sikota, Bob Sichinga and many others which was issue-based and went further to provide alternative policy alternatives, including an alternative national budget; This is the only way they will be seen to be adding value to Zambia's democratic process.
2. Denounce the violent and bloody Mapatizya formula and all other forms of violence
3. Declare a day of atonement when they would repent in sack cloth and ashes of its tribalism, which should include Mr. Hichilema denouncing the tribal cradle which gave him political birthing;
4. Commit to carrying journalists and the media when they campaign in Southern Province so that Zambians can weigh in on the content and context of the message they give to the unsuspecting electorate;
5. Cease to portray themselves as representatives and owners of the Tonga-speaking people. They should also repent for attempting to use a great tribe as the Tongas as their human shield. We say so fully convinced that the people of Southern Province are independent and honourable citizens of the Republic of Zambia who were born free to choose their own political belonging without any form of blackmail and political misrepresentation;
6. Issue a public apology to the Bashi Lubemba and the Mwine Lubemba Chitimukulu Kanyanta-Manga and indeed the Bemba-speaking people because we have no doubt that they were behind the manufacturing of lies peddled as those of His Royal Highness by some media houses. The country has never seen such levels of desperation as manifested by UPND!
7. Take responsibility for Mr. Munkombwe's tribal mantra during a UPND rally and impliedly endorsed by Mr. Hichilema's that: "We the Tongas have always been very supportive of other tribes who ruled this country and there is nothing wrong for us now to demand for leadership as well. Leadership should be revolving; now it's a Tonga, next is a Lozi and later Luvale then at least we can give it back to the Bembas who have dominated it for a long time."
8. Clarify why Mr. Hichilema's pronouncement in Chingola to bring back Anglo-America failed to disclose that he was a shareholder under Anglo-Gold, a subsidiary of Anglo-American. We question why Mr. Hichilema would push for Anglo-American's returning to Zambia to run the country's Copper Mines when he knew too well that he is an interested party and has not disclosed this interest to the Zambian people.
9. To change their stance on matters of Prayer and Christianity since Zambia is a Christian Nation. This is against UPND's anti-prayer stance as evidenced prior to the 18th October 2015 when Mr. Hichilema condemned President Lungu for Declaring a Day of National Prayers, Fasting and Reconciliation and Gazetting it as a Public Holiday.
In conclusion, we want to thank the people of Zambia for rejecting tribalism and all tribal elements because they believe that we are 'One Zambia, One Nation'. Zambians from all walks of life and different parts of the country can be assured that PF remains an 'open church' and Zambia's number one (1) party of choice which is dedicated to implementing a people-driven and pro-poor development agenda. We remain ready to engage all other political parties in the nation in civilized and development oriented politics as commit to pushing the frontiers of poverty and creating a better life for all Zambians.
We wish all Zambians a prosperous 2016 as we walk hand in hand to create a better Zambia for all under the able leadership of President Lungu and PF.
Issued by: Sunday Chilufya Chanda, Vice Chairperson, PF Media and Publicity Committee
[Read 23 times, 1 reads today]