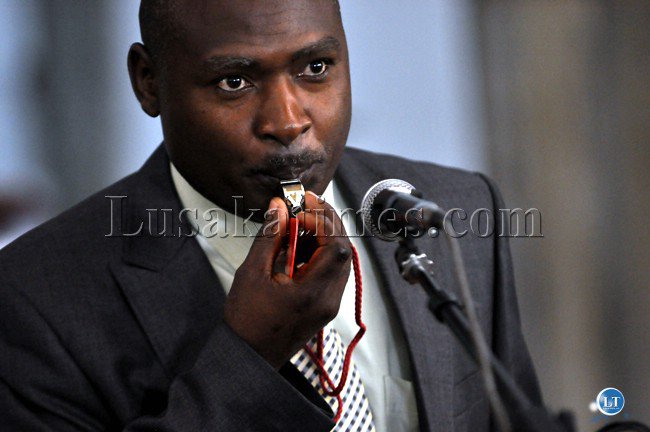 The ruling PF has said that it looks forward to seeing FDD President Edith Nawakwi arrested as she recently claimed that the government is plotting to put her behind bars for helping farmers.
PF Central Committee chairperson for information Frank Bwalya said that if Ms. Nawakwi does not get arrested, she should also be honorable enough to apologize for her claims.
Father Bwalya said that the apology should be made to the Zambian people because her accusation, which has been widely publicized would have proved to be falsehood.
In an interview with Qfm News Father Bwalya said that his party does not think a citizen can be arrested for simply campaigning outside the campaign time in the disguise of helping farmers with farming inputs.
Father Bwalya stated that the ruling PF is thus suspicious that there could something that Ms. Nawakwi is doing illegally in her business of helping farmers which she fears the police might arrest her for.
Father Bwalya said that it was however up to the Police itself to ascertain whether she should arrested or not and not by the instigation of the PF government.
Meanwhile, Zambians have been called upon to pray for the success of President Edgar Lungu's assenting to the Constitution Bills on Tuesday the 5th of January this week.
People in the Country are being urged to do so keeping in mind how big the event to assent to the Constitution Bills will be in the life of their Country's multiparty Democracy.
The ruling PF is of the view that President Lungu assenting to the Bills at a ceremony to be held at Heroes Stadium in Lusaka is therefore an event that any Zambian should want to be part of.
PF Central Committee chairperson for Information Frank Bwalya says his party believes that once the amendments to the Constitution come to effect, many things will change in Zambia.
Father Bwalya has referred to governance, politics and the rate at which the country will be developing as some of the things that are expected to change.
He states that his party is thus looking forward to Tuesday this week when the wave change in the country will be initiated.
Father Bwalya spoke to Qfm News in an interview