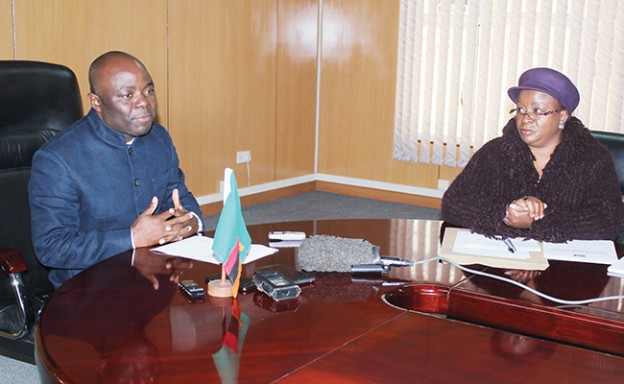 LOCAL Government and Housing Minister, Stephen Kampyongo has grilled councils in Ndola and Kitwe over rampant illegal land allocations which are denting the Government's image.
Mr Kampyongo has since announced that Government has formed an inter-ministerial taskforce to investigate the alleged illegal land allocations in the entire Copperbelt.
Mr Kampyongo who is on a tour of Copperbelt towns, has so far held meetings in Ndola and Kitwe, where he warned council management and councillors that no one would be spared once found wanting.
Ndola City Council (NCC) Town Clerk Ernest Sumani failed to convince Mr Kampyongo on why the local authority had allocated land near Kafubu River without approval from the Ministry of Lands.
During a meeting with NCC officials, councillors and members of the public, Mr Kampyongo said he had received several complaints of illegal land allocation by the council.
"I will not hesitate to use powers vested in me by President Edgar Lungu to discipline all council officials and councillors found wanting," he warned.
Mr Kampyongo who was accompanied by Home Affairs Deputy Minister Panji Kaunda, noted that there were a lot of irregularities in the way the NCC allocated land which in most cases was given to the wrong people at the expense of local residents.
He said NCC had a planning department which should have considered the environmental aspects before allocating land near the Kafubu River.
"I have not come to the Copperbelt for witch-hunting, but to bring order and sanity in terms of how land is allocated to people by the councils. There will be no sacred cows, whoever is involved in illegal land allocation, whether a Patriotic Front (PF) councillor or council officials, will be dealt with by the law," he said.
He said that although there was population growth on the Copperbelt, local authorities should be able to allocate land in a more transparent manner.
In response, Mr Sumani who had difficulty to explain why the local authority was allocating land illegally, said the land was given to members of the public, without the Ministry of Lands numbering the plots.
Mr Sumani admitted that the council had given land to people building near the river without approval from the Ministry of Lands.
At the Kitwe meeting, Mr Kampyongo said major councils such as Kitwe City Council (KCC) should be exemplary in land administration for other local authorities to emulate.
He said issues of illegal land allocation by council officials and councillors in Kitwe had dented Government's image and needed to be addressed immediately.
Mr Kampyongo did not hide his displeasure over the many cases of illegal land allocation that had rocked KCC.
He said illegal land allocation was making people lose confidence in Government's land administration system
"As institutions that have been delegated with the function of administering land on behalf of the Ministry of Lands, let's ensure that we allocate land to people in a legitimate way," he said.
Mr Kampyongo was disheartened that complaints to do with the unfair administration of land by KCC had kept reaching him including President Lungu.
He said following the many cases of land matters that had characterised councils on the Copperbelt, Government had resolved to establish the inter-ministerial provincial taskforce to help address land matters.
"We will be creating this provincial inter-ministerial taskforce soon after my tour of the Copperbelt," said Mr Kampyongo who was also in the company of Copperbelt Minister Mwenya Musenge.