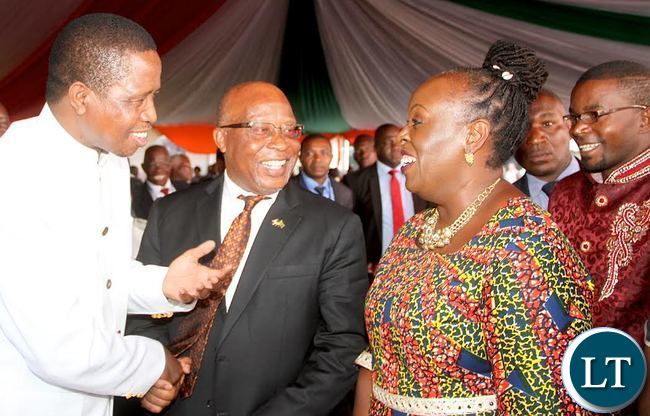 MMD Spokesperson Raphael Nakacinda says his will issue a comprehensive statement on the pronouncements by President Edgar Lungu on the PF's desire to form an alliance with the former ruling party.
Speaking in an interview Mr Nakacinda said the party has laid down procedures and that if an alliance is to be formed it has to come about due to an agreement among party members and that issue will be up for discussion during the National Executive Committee meeting which the party will be holding soon.
He said the MMD is a democratic party which practices intra party politics and that the issue of an alliance is something that needed to be discussed before any statements could be issued.
He also indicated that if the party is to go into any alliance then it will be because of mutual understanding between the two parties and not out selfish interest of individuals.
Mr Nakacinda also disclosed that his party is working on a template that will ensure the participation of all members when choosing a running mate.
He said as the mother of democracy in the country, the party's leadership does not want to impose a running mate on the membership.
He also said the position of running mate was too important to be left to individuals to chose because it would have a bad bearing on the party and would be a recipe for intra party confusion.
President Lungu on Tuesday disclosed that he had formally contacted MMD Leader Nevers Mumba on the possibility of the two political parties forming an Alliance in this year's elections.
Speaking when he addressed PF members in Chipata Eastern Province, President Lungu said it will be difficult for both MMD and PF to attain the 50 percent plus one threshold if they do not work together.
The President said he was looking at the day when former president Rupiah Banda and Dr Nevers Mumba would work together.
Mr Lungu who paid a glowing tribute to Mr Banda said the former head of state should continue to be praised because without him he was not going to be in State House.
"First of all let me pay tribute to president Rupiah Banda for joining hands with PF during the January 20th 2015 presidential elections by helping us to win the elections. I know without president Banda would not been the President of this country. I will be happy to see president Banda and Dr Nevers Mumba to make peace," he said.
He said the best thing for any political party was to put the house in order for the common good purpose.
He said had been exchanged the notes through short an SMS with Dr Mumba to work together because themselves MMD cannot manage to win the general elections.
"This morning (yesterday) I was talking to Dr Mumba through SMS to say let's work together," he said.
President Lungu said he was not the one who caused confusion in the MMD stating that in any political party including PF there was confusion until God prevailed the situation.
He asked the party members in the ruling party to embrace new members in order for PF to manage the 50 plus one threshold of the votes.
He said he was aware that with few numbers the he cannot attain the 50 + 1 but he was looking forward for more votes from people in Eastern province.
He said currently Zambia does not deserve a re-run saying there was need for people to vote en masse for PF to avoid the same on August 11th .
President Lungu said Energy Minister Dora Siliya left MMD and joined PF in which she re-contested and won the Petauke Central parliamentary by-election convincingly.
He said there was also nothing wrong for him to appoint someone from opposition as a cabinet minister.
He said United Party for National Development (UPND) appointed Geoffrey Bwalya Mwamba as vice party president stating that the moment he appointed Richwell Siamunene as defence minister, the opposition political party started talking unnecessarily.
[Read 50 times, 1 reads today]