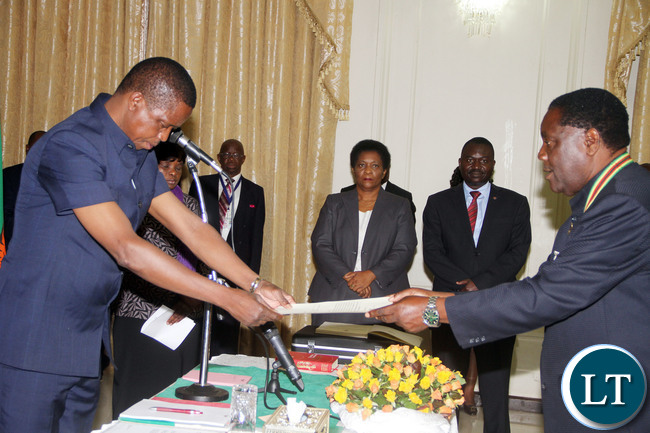 President Edgar Lungu has appointed former Police Inspector General Ephraim Mateo as Permanent secretary for North Western Province.
And President Lungu has also appointed Owen Zulu as permanent secretary in the Ministry of Higher Education, Emmanuel Mali as Public Policy specialists at Cabinet Office while contracts for Patrick Nkanza and Joseph Wakafumba have not been renewed.
Mr. Mateo takes over from Amos Malupenga who has been moved to the ministry of local government and housing in the same capacity.
Other changes made were Misheck Lungu who has been moved from the Minister of Local government and Housing to the Ministry of Transport and Communication replacing Bololwa Miyamba who has moved to Cabinet Office as Permanent secretary in the remuneration Department.
And Labour and Social Security Permanent Secretary Trevor Kaunda has been moved to the Ministry of Lands taking over from Barnaby Mulenga who takes over his position.
And Speaking during the swearing in ceremony in Lusaka, President Lungu urged the Permanent Secretaries not to engage in active politics.
Meanwhile, the Committee on Government Mining Industries Technical Audit chaired by Sixtus Mulenga has submitted the audit report instituted to investigate the state of Zambia's Mining Industry.
Presenting the report to the President, Labour and Social Security Minister Fackson Shamenda said once report is scrutinized, it will help government in addressing the challenges in the mining sector.