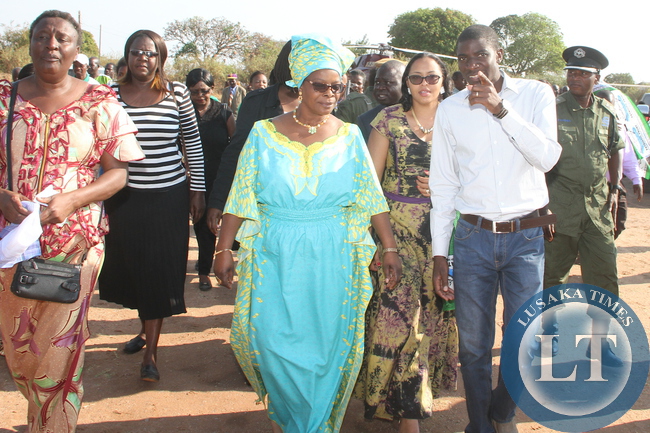 THE cattle population in Kazungula District of Southern Province has increased to about 87, 000 currently from 36, 000 over the last few years because of various measures the Government has put in place to eradicate livestock diseases, Livestock and Fisheries Minister Greyford Monde has said.
Mr Monde said the Patriotic Front (PF) Government and chiefs had been highly instrumental in systematically and effectively implementing Contagious Bovine Pleural Pneumonia (CBPP) control and eradication measures since the outbreak of the livestock disease during the year 2000.
He said in some cases, the measures employed such as test and slaughter of positive herds and movement restrictions may have appeared to be very harsh but they were very necessary and intended to control the disease.
Mr Monde was speaking in Livingstone at Protea Hotel yesterday when he officiated at the livestock stakeholders' consultative meeting for Livingstone, Kazungula and some Districts in Western Province.
Senior Chief Mukuni, Chief Nyawa, Chief Sekute, representatives from Chief Moomba and Musokotwane of Southern Province as well as representatives from Senior Inyambo Yeta and the Barotse Royal Establishment (BRE) attended the meeting which was hosted by the Ministry of Livestock and Fisheries.
"The PF Government through the wise leadership of President Edgar Lungu, the Ministry of Livestock and Fisheries, with the support and participation of your Royal Highness, stakeholders gathered here, has been instrumental in implementing CBPP control and eradication measures.
"Kazungula District has achieved a growth of cattle from 36, 000 at the peak of the disease outbreak to about 87, 000 herds currently," he said.
Mr Monde in view of the positive developments, his Ministry was determined to continue with systematic control and eradication measures in order to roll back the disease to the national borders.
"To reduce illegal inflows of cattle and facilitate safe trade, my Ministry is proposing measures such as cattle identification through branding as well as maintenance of stock registers and enhanced policing of cattle movements by the community through traditional leadership taskforces and other stakeholders like stock theft wing of the Zambia Police," Mr Monde said.
He said CBPP was one of the national important diseases that had a very devastating effect on cattle through lung infection and it spread from one animal to another through close contact.
"You may recall that since the CBPP outbreak of 2000 in Western Province, and later on the spread of the disease in 2004 to Kazungula District of Southern Province, many of our farmers lost their means of livelihoods.
"In Kazungula District, for example, the cattle population drastically reduced from 45, 000 to 36, 000 within a period of about two years," Mr Monde said.
He said the loss of animals lead to financial insecurity and social-cultural disruptions such as inability to pay for dowries and perform significant traditional ceremonies.
Speaking at the same meeting, Livestock and Fisheries Deputy Minister Lawrence Evans said there was need to control livestock diseases that the county could export beef to neighbouring countries.
Mr Evans said Zambia had the potential to become a hub for exporting beef to other countries.
Livingstone District Commissioner Omar Munsanje urged livestock farmers to consider adding value to their beef to enable them broaden their revenue base.
Mr Munsanje said Livingstone, which was Zambia's Tourist Capital, was one of the huge markets for the beef industry.
[Read 60 times, 1 reads today]