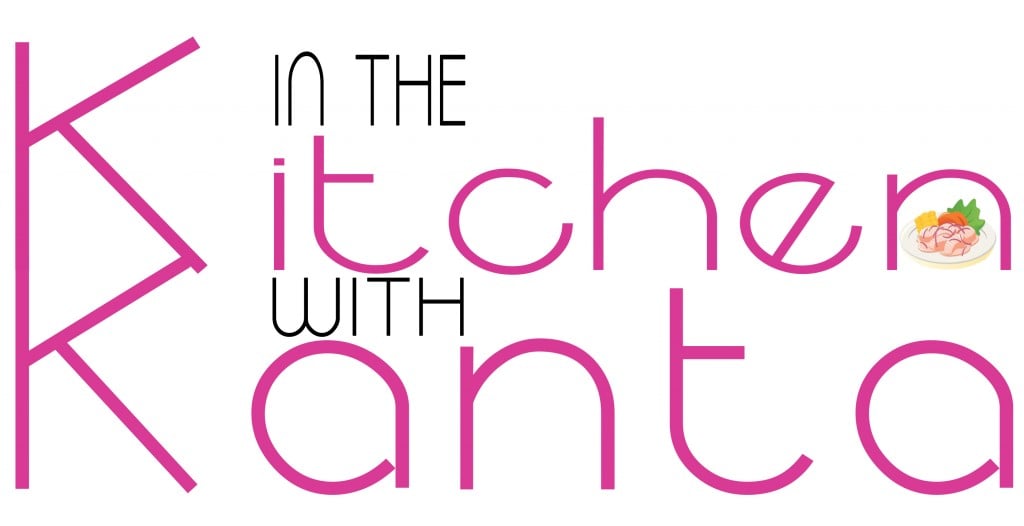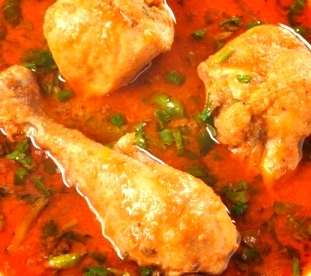 The other day I was speaking to a friend that is from Rwanda, and we were talking about different types of African food.  He mentioned the contrasting ways that Eastern Africans and Zambians prepare village chicken; and I found this very interesting.  Now, I've got to admit that the first time I ever tried village chicken it wasn't cooked very well; so it was really tough and I didn't enjoy it at all.  I would say that village chicken is an acquired taste and it takes some time to adjust to.  However, when it is cooked correctly it is absolutely delicious, and I've got to admit there is something nice about knowing that you are eating something that's healthy and not pumped full of chemicals.
So what is village chicken? It is chicken that is not fed on "special" chicken feed like broiler chicken. A village chicken wonders about freely, like Free Range chicken – it is not confined to the chicken run or a small space.
Preparation time: 10 minutes
Cooking time: 1-2 hours
Serves 5-6 people
Ingredients
1kg of (Village) Chicken
2 big tomatoes
1 medium onion
2 tbsps of vegetable oil (or your preferred cooking oil)
Salt to taste
200mls water
2 tsps of tomato paste
1 tsp curry powder
½ a tsp of chilli flakes/ or ½ a red chilli, chopped  (optional)
1 tsp of garlic powder
1 handful of fresh thyme, removed from the stalks and roughly chopped (optional) 
Method
On a high heat boil a medium – large pot of water.  Don't add salt before the chicken is cooked because this will harden the meat. Cut the chicken into pieces at the joints; place the pieces into the pot and bring to the boil.  Turn the chicken after 20 minutes and continue boiling.
Cover the pot and allow the chicken to boil completely.  Once the chicken is cooked, add the oil and cook for 10 minutes.
Chop the onions and tomatoes, add them to the chicken and stir gently to allow the ingredients to mix thoroughly.  Add your tomato paste and spices; salt, curry powder, chilli to taste and garlic powder and allow everything to blend and cook.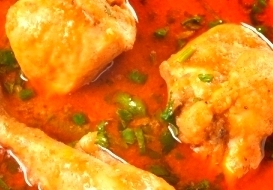 Serving
Remove from the heat and serve with vegetables (rape, pumpkin leaves or any other vegetable) and Nshima or rice.
This chicken can also be cooked without any spices if preferred, because village chicken does have some natural flavour.
Enjoy!!
Kanta Temba is a cake maker and decorator. She is also the owner and founder of Kanta Kakes – cake shop.
You can find her work on www.kantakakes.com.  Follow her on twitter @KantaKakes and Instagram @KantaTemba.