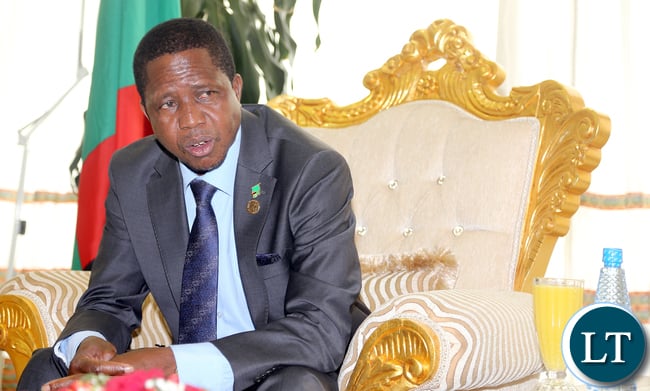 PRESIDENT Edgar Lungu has assured the international community that Zambia will hold free, fair and peaceful elections on August 11, this year.
Mr Lungu said here yesterday that his one year in office had been marked by massive development projects which Zambians had appreciated.
He said this during an interview with Radio France International journalist, Laura-Angela Bagnetto and in another interview with France 24's 'Eye on Africa' producer, Georja Calvin-Smith at Le Meurice Hotel.
The Head of State said he had sufficient trust in the Electoral Commission of Zambia and Zambia Police Service to facilitate credible and peaceful polls, respectively.
"The ground is even and I have confidence in the robust Electoral Commission of Zambia while the police service is equal to the task. I just expect all the players to cooperate," he said.
Mr Lungu dispelled the notion that his administration had stifled Press freedom in the country, and cited some foreign journalists who had been operating in Zambia freely.
"I don't have any record of stopping any journalists, even the hostile media," he said.
The President said he was proud of the progress so far made in implementing development projects which had been widely applauded by Zambians.
He extended an invitation to investors in France to consider setting up businesses in Zambia as it was one of the most politically stable countries in Africa.
The Government, he said, had focused on economic diplomacy for the mutual benefit of both the investors and Zambians.
He said the Government had shifted its attention to agriculture, infrastructure development, manufacturing, tourism and other crucial sectors to grow its economy.
"We are not going to abandon mining, but all we are saying is that we have learnt a lesson from being a mono-economy.
"Zambia has depended on copper for many years and the economy has been disrupted each time the commodity prices fell," Mr Lungu said.
He said climate change had had a profound effect on agriculture and the environment, adding that part of the reason he was in France was to forge progressive partnerships with entrepreneurs willing to invest in the country's energy sector.
The Head of State said as much as the Government wanted to implement cost-reflective tariffs, it would not rush the decision to avoid hurting consumers.
"It's like the issue of re-introducing the national airline; we haven't reversed the idea, but we will do it gradually," he said.
He said Zambia would continue playing a role in ending conflicts in Burundi, and was confident that the forthcoming meeting in Angola under the auspices of the Great Lakes Region would find solutions to the political turmoil which was affecting neighbouring countries.
Mr Lungu said he was deeply proud of the peace Zambia had enjoyed across the years despite people holding different opinions on national matters.
[Read 46 times, 1 reads today]