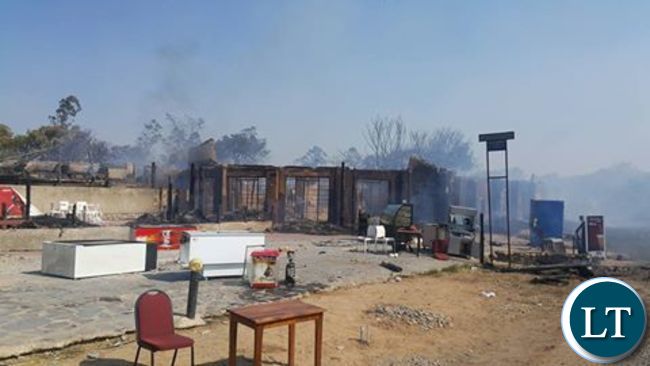 HIGHER Education minister and proprietor of Kozo Lodge, Michael Kaingu, has sued Government and is demanding more than K450 million as compensation following the fire which gutted the property in Choma last year.
Dr Kaingu claims the fire originated from the Government-owned Choma West national forest and charges that the Forestry Department was negligent in their failure to maintain the fire guard around the forest.
Dr Kaingu has sued the Attorney General on behalf of the Ministry of Lands, Natural Resources and Environmental Protection in accordance with the provisions of the State Proceedings Act.
According to a suit filed in the Lusaka High Court, Mr Kaingu states that on or about October 9, 2015, the Forestry Department in Choma neglected to construct their annual fire break which would have prevented any fires from escaping from the forest to nearby premises and causing damage.
Dr Kaingu said as result of the negligence and breach of the statutory duty by the Forestry Department and their sequelae, Kozo Lodge Limited, Lituwa Fast Foods and Dr Kaingu as first, second and third plaintiffs respectively have suffered loss and damages and claim K21 million being the estimated value of developments on the said land.
He is also claiming damages in the sum of K8,091,084 for the loss of unused stock belonging to the two companies and of chattels used by Kozo Lodge Limited and Lituwa Fast Foods Limited.
Dr Kaingu also claims that Kozo Lodge had 40 rooms each equipped with beds, beddings, television, carpets, air conditioners, chairs, tables and other facilities, adding that it had also a fully functional conference hall, reception, kitchen, bar, takeaway and bakery of which he claims K2,266, 315 for loss of business. He said at the time of the fire they had an average monthly income of K453, 263, 01 from their businesses and that the amount claimed under this head was in respect of the period from the date of the fire to date of which the future loss earnings claimed was K10, 878,321,24.
Dr Kaingu further stated that as a result of the fire and damage occasioned on the business premises, business has ceased and the amount claimed is K453, 263, 01 per month for a period of two years. He added that the amount claimed has not been capitalized and contingencies have not been taken into account but claims a sum of K2 million for general damages.
He is also claiming costs, interest and any other remedy which the court may deem fit.