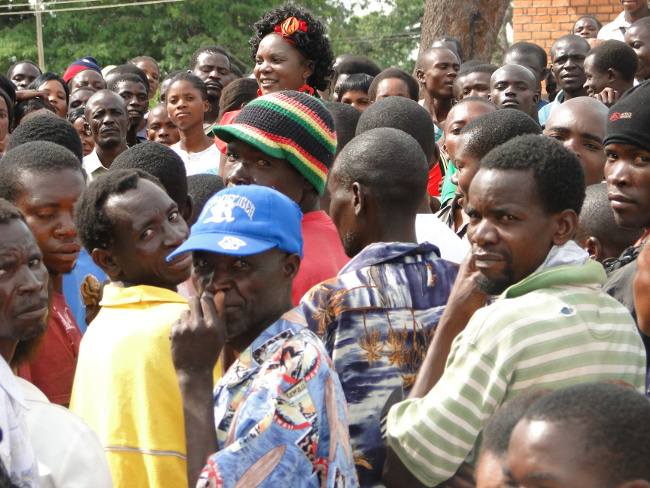 By 2410
A research conducted by a youth organisation has revealed that the creation of 500,000 jobs by the government at the end of 2016 in the short term may seem appealing but will be a costly exercise on the government.
A baseline survey carried out between February and June, 2015 across all the 10 provinces of Zambia by a governance youth organisation called 2410 with support from the FINISH embassy, has also revealed that the 2015 National Youth Policy despite identifying youth employment as a priority agenda its National Plan of Action lacks specific information and statistics on the current available youth skills, sector short of skills and demand of labour market.
The research finding on youth employment has since recommended that a skills audit be carried out to ascertain the supply and demand on the labour market.
It added that this will help align the successful execution of the National Plan of Action as well as align youth skills training with the available market demands and needs.
The research finding further says that the effective and efficiency way to absorb the unemployed youth is for the government, through the national youth policy and national plan of action, to formulate policies on the national level that create an enabling environment for entrepreneurship and job creation through Small Medium Enterprises (SMEs) and private sector intervention adding that it is a fact that not all entrepreneurship creates jobs therefore segmentation of programs of entrepreneurship has to be done in conformity with the much desired national job creation for the youth.
The research also discovered that the current education policy falls short in connecting the training/skills to youth employability.
It research read that a major deficiency in meeting the employment need of the country is the relevance of education to the demands of the labour markets.
It further observed that high unemployment exists alongside skills shortages in some sectors a reason why the youth needs targeted training and education that focuses on the employment needs of the country which must be clearly related to employment outcomes.
On Access to Funding Sources, the research outcome has shown that one of the major challenges the youth face is access to credit and other economic sources. On the Zambian government's established Youth Empowerment Fund (YEF) which was expected to assist the youth be mentored on entrepreneurship development, the youth talked to reveal that the fund was not adequate and not easily accessible to most of the youth in the country saying this has gross lack of funding and accessibility to capital has hampered youth entrepreneurship and hinders youth self-employment.
It has since recommended that stimulating demand and putting employment at the centre of national policies are preconditions for creating jobs for the youth. Policies should ensure that the youth have access to the National Youth Policy and National Plan of Action.
2410 governance youth organisation also recommends paid internships and apprenticeship services for the youth, which exposes them to practical skill development and provides the necessary work experience, Government 's tax breaks for private sector companies that engage the youth at this level, government's incorporation of work experience programs into tertiary education program and government's fostering of an enabling environment for the youth to have a smooth access to the credit and financing facilities.
It also recommends that government should publise the Youth Empowerment Fund (YEF) and ensure that guidelines are made available to the youth through establishment of key distribution points in the districts and the state should detach itself from the operation of the Youth Empowerment Fund (YEF).
Meanwhile another survey on youth participation in governance structures conducted by the same organisation has pointed out that Participation in leadership positions and decision making; There is an increasing interest in the number of youth taking leadership positions across the country however data backing this progress is not readily available as reporting has only been on the proportion of women representation in public office and elected position.
In participation in social development initiatives and activities; support for civil society and partnership with different stakeholders was highlighted as an important determinant of the results seen on youth development.
It also pointed out that supportive policy and laws for civic participation in social development endeavours has contributed to increasing participation among the youth in social development activities and that recurring challenges however continue to be on access to capacity development and resources to drive social initiative and ventures for the youth.
The 2410 youth governance organisation has since recommended that there is need to address existing and increasing gaps in participation of different stakeholders, especially young people, women and other marginalized groups in decision making at all levels. This includes ensuring that the rights of all young people, regardless of their backgrounds are recognised and respected, Mitigate continuing existence of obstacles to participation, especially for young people, that include access to quality education, employment opportunities, training and capacity building and credit facilities.
It also recommended the potential for Zambia to convert on its impending demographic dividend, but it was however quick to note that it will require immediate political, policy and investment action at all levels.
It said the country will need to commit now on and expedite actions to, among others, improved wellbeing of its populations, help young girls stay in school longer, increase access to job opportunities and social services, and diversify the economy.
And another survey conducted during the same period on early pregnancy and maternal mortality, harmful traditional practices, access to Sexual and Reproductive Health (SRH) services, HIV, Sexual and Reproductive Rights, Rights of Minority Youth Populations, Sexuality Education, Effective Partnerships and other related issues concluded that government should ensure that young people have meaningful participation in the allocation of resources at the local and national levels, and that there must be creation of policies that respect, protect and fulfill youth human rights. Furthermore, Government and must develop monitoring and evaluation mechanisms for existing global recommendations on youth issues including meaningful youth participation.
It also said that there is need to provide non-discriminatory, non-judgmental, rights-based, age appropriate, gender-sensitive health education including youth-friendly, evidence based comprehensive sexuality education that is context specific and that government should work in partnership with adolescents and youth, media, religious leaders and the private sector to create enabling environments that are conducive to ensuring young people have access to comprehensive affordable health services that are free from coercion, discrimination, violence and stigma – and provide for basic needs through increased funding, improved legislation and policies, accessible and affordable services.
It concluded that government should also ensure that young people have meaningful participation in the allocation of resources for health at the local and national levels, and the creation of policies that respect, protect and fulfil human rights.
2410 is a youth organisation with four focus area in governance, public service delivery, economic empowerment and cultural. Phone + 260 0211 22 40 59, ZIMCO House room 803 and 804 Lusaka.
[Read 28 times, 1 reads today]