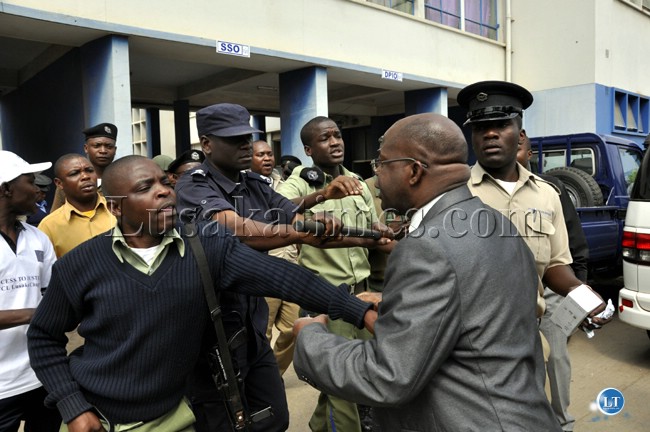 The United Party for National Development (UPND) has described the events in parliament on Thursday where parliament defeated the private members bill on the Public Order Act (POA) as a sham.
In a statement released to the media by party spokesperson charles Kakoma, the party wondered
why the ruling Patriotic Front (PF) was fighting against having this piece of archaic legislation amended.
Below is the full statement
OFFICIAL STATEMENT
PUBLIC ORDER ACT
What happened in Parliament on Thursday regarding the Public Order Act is a sham and the Patriotic Front should be ashamed.
All parties sitting in Parliament have leaders. Those leaders convene meetings in consultation with the leader of the party on what decision they will make on the subjects of discussion in Parliament.
If you recall, when the constitution was being debated, the leader of the MMD, Hon. Mutolo Phiri, made a statement on how they were going to vote, so did the leader of the UPND, Hon. Gary Nkombo.
The leader of Government also made a statement, and for sure the constitution was passed, albeit now they are desperately trying to reverse it after seeing that it is working against them. So President Lungu knew that he was politicking when he made that announcement that he wanted the POA amended.
What happened during the debate of the Public Order Act when a motion was introduced by UPND MP for Choma, Hon. Cornelius Mweetwa, goes to show what kind of Government we have.
This is the same group that pandered on this subject when they were in opposition, but barely a month in Government, they u-turned. The amount of u-turns this Government has made has left the country dizzy.
Now they are fighting the same legislation that their own President directed then to amend. They are going against their own leader, so why does President Lungu make these pronouncements before lobbying his MPs? Is it that he does it for political reasons?
Why is the PF fighting against having this piece of archaic legislation amended? The Public Order Act is a piece of legislation developed in 1955 and it states "An Act to prohibit the wearing of uniforms in connection with political objects and the maintenance by private persons of associations of military or similar character; and to make further provision for the preservation of public order. [19th August, 1955]." That first sentence presupposes that it's illegal to be in party regalia.
Why are we then maintaining such a law in a democratic country? This PF Parliament has been a disappointment. This crop of PF MPs must never come back to Parliament as we wait for history to judge them harshly.
Charles Kakoma
UPND Spokesperson