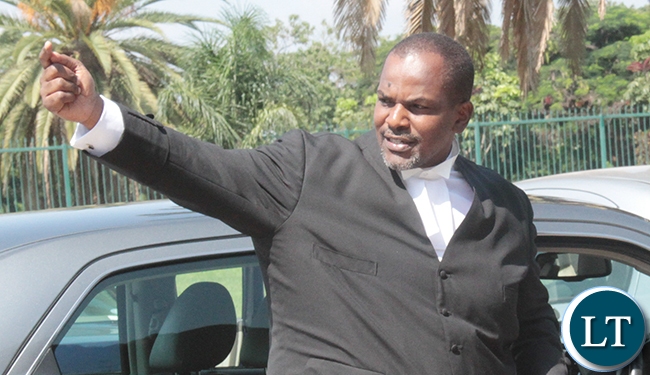 THE Lusaka High Court has dismissed suspended Director of Public Prosecutions Mutembo Nchito's application for leave to apply for judicial review into the continuation of the sittings of the tribunal tasked to investigate his alleged professional misconduct and acts of impropriety.
Mr Nchito had asked the court to grant him leave to apply for judicial review of the decision of the tribunal set up to investigate him to continue sitting.
Mr Nchito wanted the court to quash the continuation of the tribunal sittings on grounds that the Constitution no longer provides for its existence.
He contended that the tribunal is illegal and that a jurisdictional issue had arisen when the Constitution was amended and that this is pending determination in the Constitutional Court.
But Attorney-General Likando Kalaluka submitted that the High Court is bound by the decision of the Supreme Court to give the tribunal an opportunity to carry out its investigations without undue fragmentation.
Mr Kalaluka argued that Mr Nchito's application has no merit as all provisions relating to the operationalisation of the Constitutional Court are not yet in effect.
He said proceedings pending immediately before the effective date shall continue before the same authority even after the enactment of the constitution.
In her ruling, High Court judge Petronella Ngulube said that allowing judicial review of interlocutory decisions of administrative tribunals would hinder them from efficiently conducting their administrative inquiries.
Mrs Justice Ngulube said a tribunal's interlocutory ruling can be challenged when an application is exceptional that Mr Nchito would suffer a fundamental failure of justice.
She said Section 16 of the Constitution of Zambia Act, number 1 of 2016 provides that proceedings before a court or tribunal shall continue to be heard and determined by the same court or may be transferred to a corresponding court established by the Constitution.
"By virtue of the provisions of Section 16, the tribunal still has mandate and power to continue sitting and determine issues before it. As such, it is erroneous and misconceived for the applicant to refer to it as a defunct tribunal," Mrs Justice Ngulube said.
She found no exceptional circumstances to warrant the exercise of her discretion to grant Mr Nchito permission to commence judicial review proceedings and that there was no case fit for further investigation.
"This application fails for lack of merit and I accordingly dismiss it," Mrs Justice Ngulube said.
[Read 63 times, 1 reads today]