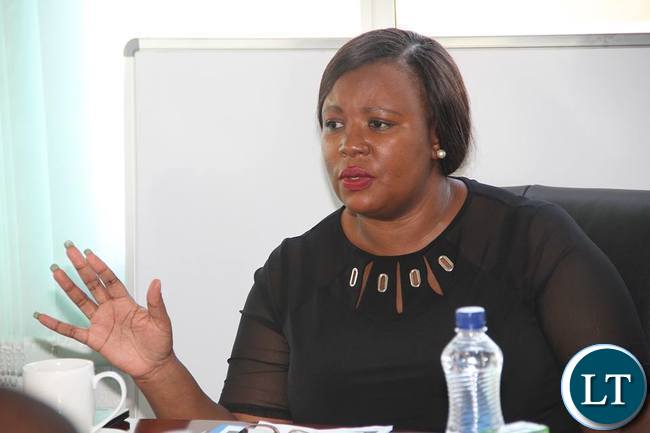 ENERGY and Water Development Minister Dora Siliya has directed consumer protection bodies in Zambia to ensure that service providers that engage in unfair trading practices are brought to book.
Ms Siliya directed the Energy Regulation Board (ERB), National Water Supply and Sanitation Council (NWASCO), Competition and Consumer Protection Commission (CCPC) and other stakeholders to ensure that service providers that engage in unfair trading practices were prosecuted.
She said consumers should know that the Patriotic Front (PF) Government puts a premium on consumer protection and hence it would not relent in pursuing measures that were aimed at protecting consumers against unfair trading practices.
Ms Siliya said this in Livingstone yesterday in a speech read for her by her deputy Charles Zulu during the celebrations for the World Consumer Rights Day held under theme 'Using Water and Energy for Sustainable Development'.
"It is my appeal to all service providers that they should endeavour at all times to provide consumers with access to affordable and reliable service as well as adequate information regarding the availability of the service.
"The consumers should know that they have the right to redress and that the Government has enacted statues and established institutions which are mandated to uphold consumer rights and protect the interests of the consumers," Ms Siliya said.
She said the Government was committed to ensuring that access to water and energy for all was guaranteed realising that water and energy were fundamental to the achievement of most of the sustainable development goals.
"Access to water and energy has been a priority for the Government over the years. We are cognisant of the fact that the rural parts of the country still face challenges in accessing clean water and sufficient energy.
"It is in view of this that Government has been working on integrated implementation of energy and water strategies without isolating one from the other," she said.
Ms Siliya said investing in water and energy services essentially leads to increased levels of human health, reduced levels of poverty and indigence, and increased opportunities for education and employment thereby resulting in overall national economic development.
Speaking at the same meeting, ERB Executive Director Langiwe Lungu said the celebrations were key as they were touching on two critical drivers of the economy namely water and energy.
In a speech read for her by ERB senior manager for consumer and public affairs Fred Hangandu, Ms Lungu said the link between water and energy was clearly visible following the unprecedented load shedding being experienced countrywide.
"The water utilities on the other hand, which rely on power supplied by ZESCO, have also had to ration water supply to their consumers which has also had an adverse impact.
"The problem requires concerted efforts from all consumers whether large or small," Ms Lungu said.
She also urged consumers to conserve energy and water by switching off lights in unoccupied rooms and ensuring that there were no leaking taps around homes among other measures.
Meanwhile, Mr Zulu has cautioned youths against engaging in violence ahead of the August 11 general elections.
Mr Zulu, who donated K1, 000 to Livingstone based acrobats to buy uniforms, said there was need to ensure that violence came to an end in Zambia.
He also said Ms Siliya was expected to issue a comprehensive statement on the fuel shortage which has persisted in Livingstone and other parts of the country.